9/14/2020
Education and Outreach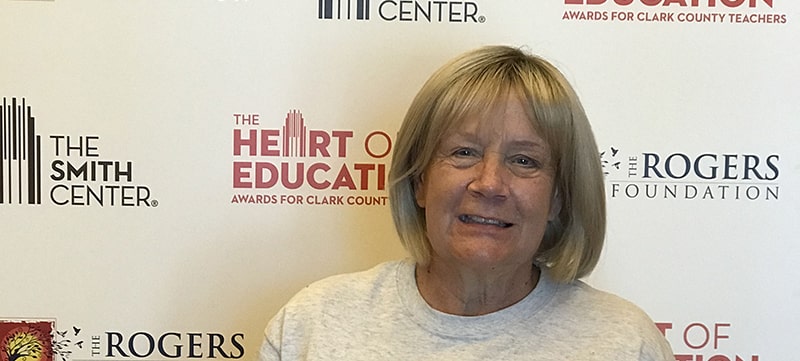 Kim Law says she developed her love of animals at an early age.
"My mom was always letting me bring home stray cats and dogs when I was a child," Law remembers. "We even had a pet monkey once."
Today, Law cares for as many as 150 animals, including reptiles, amphibians, small mammals and farm animals, in her role as head of the Zookeepers Club at Mabel Hoggard Elementary School.
Law says it involves long hours, even assisting a goat birth late one night, but that she absolutely loves it.
"It's so satisfying to see the excitement on students' faces every day when they attend school and learn something new about the animals," she says, adding that she finds teaching kids about compassion for animals actually helps them to get along with other kids.
"Kids are naturally compassionate, if we bring it out in them," she adds.
To celebrate her inspiring work, The Smith Center honored Law as one of the top 20 teachers for its fifth-annual Heart of Education Awards, recognizing outstanding Clark County School District (CCSD) teachers.
also received a $1,000 donation benefitting a program of her choice.
Law says the monetary award will be used to purchase crates for animals, as well as new cages, sheds, coops and veterinary services.
Wearing Many Hats
When she's not organizing the school's Zookeepers Club, Law teaches a full curriculum of physical and life sciences to students in kindergarten through third grade.
Law decided she wanted to become a teacher in her late 40s, after serving as a campus monitor at her kids' school, which also happened to be Mabel Hoggard Elementary School.
As a campus monitor, Kim began helping out the school's animal lab, which included snakes, fish and a variety of other species. Eventually she secured funding to expand the animal program, and the rest is history.
"Instilling a love of nature and empathy for living creatures in children has always been what I'm most passionate about," she says.
True to her love of nature, Law also runs the school's garden club.
In this capacity, Law helps students plant seeds, learn to weed and care for plants. At harvest time, she even partners with chefs from the University of Nevada, Las Vegas to teach students how to prepare food using plants they have grown.
"My students learn valuable lessons about nutrition and living sustainably, including managing waste through composting and recycling food left over from students after they eat breakfast and lunch," she says.
In her spare time, Law also serves as an advisor to the school's student leader program. She has even organized special breakfasts for students' grandparents to help get families more involved.
Inspiration from Parenting
Law says her philosophy as a teacher is the same as her philosophy as a parent of seven children, all of whom are CCSD graduates.
"I teach how I raised my children, with high expectations and an emphasis on responsibility," she says.
On becoming a teacher at 50, Law says it's never too late to influence the lives of children.
"I give my time and energy freely, knowing that I am making a difference in the lives of hundreds of students each year," she says.