10/31/2016
Education and Outreach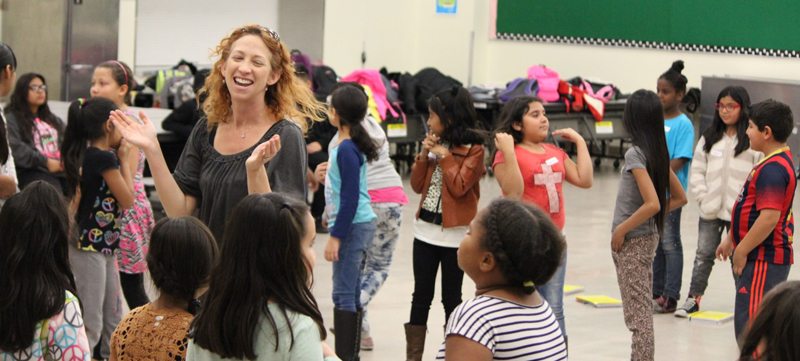 When Kate St-Pierre works as a teaching artist in local classrooms, English-as-a-second-language students are common and sometimes even the majority, she says.
But language is no barrier, the professional singer and director assures. Her music and storytelling lessons always have an impact, including with ESL students.
"They'll start saying the story in English back to me, and it's one of those mind-blowing moments for their teachers," she says.
St-Pierre, whose career includes performing in Cirque du Soleil shows and recording for film soundtracks, believes in connecting with others through the arts in any way she can.
This includes working for two years with the Southern Nevada Wolf Trap Early Learning Through the Arts. This Smith Center program partners professional teaching artists with educators in local classrooms for several-week residencies, empowering teachers to use arts-based learning strategies across all subjects.
This program is made possible by ongoing support from generous Smith Center donors, including United Way of Southern Nevada's Women's Leadership Council, Members and patrons.
St-Pierre has seen firsthand that participating in singing, movement and storytelling promotes children's engagement and retention in the classroom.
"Kids want to be a part of it and they jump right in," says St-Pierre, a Las Vegas resident.
Often working with disabled and ESL students, she has found that all students can participate, she adds.
"What we do is so applicable for everything," she says. "The arts reach everyone."
This is why she has also worked for four years with the Disney Musicals in Schools program through The Smith Center, in which professional artists help local schools develop sustainable theater programs. In addition, she teaches music, movement and theater at the Doral Academy.
She loves watching students find confidence through performing, she says.
"They dig in and find that passion within themselves," she says.
She helps provide arts education for adults, as well.
Noticing a lack of local resources for performing artists to explore new forms, she opened a Las Vegas theater training group in 2015, called The LAB.
The nonprofit brings in leading artists to teach workshops on innovative performance techniques and offers opportunities for local artists to challenge themselves.
"I really wanted to give Las Vegas artists an opportunity to hone their crafts," St-Pierre says. "It's often financially impossible for them to travel to New York and take workshops. I needed to make this accessible for local artists to train and study."
The LAB recently hosted a workshop with Leon Ingulsrud, co-artistic director of SITI Company performing arts theater in New York City, about the Viewpoints acting method.
The workshop attracted attendees from all backgrounds, including performers from Strip shows, local directors, teachers and college students.
"It was accessible to everyone, regardless of their demographics or professional level," St-Pierre says.
She has yet additional projects to work on, including directing a play at Cockroach Theatre and raising two daughters, ages 4 and 8.
"They've had their diapers changed at most of the theaters in town," she says with a laugh.
She sees a growing opportunity for the arts to thrive in Las Vegas, she explains. She intends to spur that growth.
"There's so much to be done. With the gift of The Smith Center coming in, we're in a renaissance of the arts here," she says. "Carpe diem. It's time to seize the day."
Learn more about The Smith Center's many teaching artists here: http://www.thesmithcenter.com/education/teaching-artists/.