7/13/2020
Inside the Theater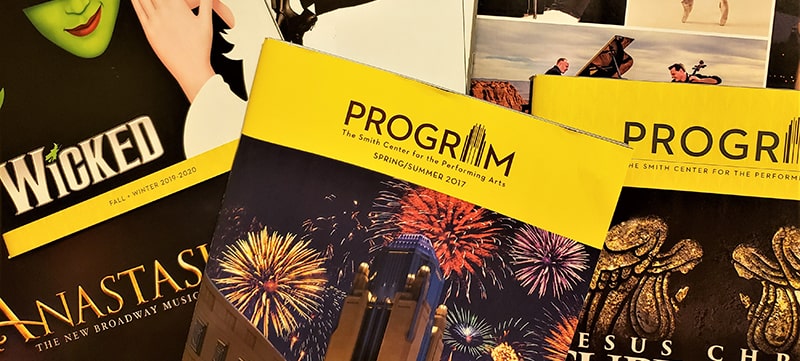 Show programs often bear special meaning for Smith Center patrons.
Many audience members lose themselves in the pages, rife with performance previews and feature articles on artists and theater magic.
Little do many know, these Smith Center guests take part in a long and surprising legacy.
The history of theater programs — also called playbills — dates back hundreds of years.
Even though patrons can't pick up new programs during The Smith Center's temporary closure, they can check out below how program content has long reflected trends in theater and society overall.
Handcrafted Surprises
British theatergoers perused the first playbills in the 1700s, when theaters popped up in nearly every town as a hub for entertainment and socializing.
These programs offered a quick read — they were handwritten and short, merely listing the cast.
Once programs became cheaply printed, however, theaters widely distributed them to entice potential audiences.
Playbills flooded the streets, showcasing the names of top performers who drew huge crowds.
Early programs also helped audiences know what to expect.
Some playbills wooed audiences with promises of alterations to famous productions, including a new ending to "Romeo and Juliet" that gave the lovers a chance to bid each other farewell.
Many 18th-century theaters also offered mixed-bill shows. This often offered a dramatic play, followed by more mirthful performances by a tightrope walker, a strongman or slapstick pantomime.
A New Empire Arises
A whole new empire emerged on Broadway in the late 1800s, all thanks to the addition of advertisements in programs.
Some might not realize that ads play a tremendous role with playbills. They allow businesses to connect directly with theatergoers, while also providing an important source of revenue.
These were the very thoughts of businessman Frank Vance Strauss, who in 1884 spearheaded the first company to specialize in printing theater programs in New York City.
Aggressively recruiting advertisers, Strauss wholly reimagined the program concept, transforming it from a multi-page leaflet into a fully designed book.
Thanks to his ingenuity, programs today resemble magazines, offering show information alongside dazzling ads and articles.
Playbill Takes Over Broadway
Strauss' new product proved so stylish, audiences started collecting programs as souvenirs.
After 1918, his company began printing for all Broadway theaters.
Within several years, it published 16,000,000 programs for 60 Broadway theaters.
Now known by the iconic name of Playbill, the company's programs still dominate Broadway today — setting the standard for show programs across the US. and around the world.
Smith Center Programs
The Smith Center carries on the program tradition with award-winning style.
Distributing over 1 million programs since it opened, the center carefully crafts its playbills with compelling content for arts lovers.
Each program offers uplifting articles about artists and tales from behind-the-scenes. They further highlight the center's numerous education and outreach efforts, like partnerships with national organizations such as Disney Theatrical Group and the Kennedy Center.
The Smith Center's rich program content and glossy layout — featuring a yellow band at the top as an homage to Playbill — earned a 2018 Best Niche Magazine award from the Nevada Press Association.
When the day comes that guests return to The Smith Center, they can enhance their experience by opening their programs and discovering all the center has to offer.