11/13/2019
Performances and Artists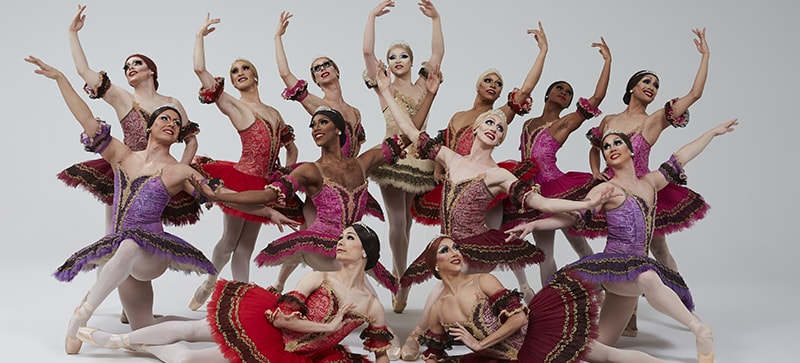 Renowned Alvin Ailey and Les Ballets Trockadero Dance Companies Performing This Spring for Vegas Audiences
Southern Nevadans can experience two of America's most beloved dance legacies at The Smith Center this winter.
Both have experienced long and surprising climbs to success.
Now international phenomenons, the Alvin Ailey American Dance Theater and Les Ballets Trockadero de Monte Carlo emerged from humble beginnings, each created with the target of supporting an underrepresented group in the arts.
With the Alvin Ailey company performing groundbreaking contemporary works, and Les Ballets Trockadero presenting its unrivaled comedy ballet, audiences can witness firsthand how these companies have transformed the world of dance.
Laughing with Les Ballets Trockadero
Male dancers often voice a common complaint: ballet offers them few roles.
Take "Swan Lake" or "Giselle." While these classics burst at the seams with female swans and undead maidens, they offer just one or two male parts with significant dancing.
Forty years ago, the creators of Les Ballets Trockadero (the Trocks, for short) set out to change this.
And they did so by merging ballet with comedy.
Starting out with no long-term goals, a group of male dancers came together to perform parody ballets in the heart of New York City — featuring all-male casts.
They presented playful and entertaining performances, rife with both physical comedy and impressive technique.
To the performers' surprise, their comic shows were hugely popular, even garnering rave reviews. Within a year, they created a full-fledged company.
Today, this comedy ballet company makes headlines and packs leading venues worldwide.
Its productions still feature an all-male cast, performing classic and modern ballets with impeccable precision, including dancing the women's parts en pointe.
They mix this with delightful comic and exaggerated depictions of performance foibles and accidents, with male dancers decked out in tutus and performing delicate roles such as swans and princesses.
The Trocks promise a performance that will impress and delight dance connoisseurs, while also entertaining those who have never experienced ballet before.
The Astonishing Alvin Ailey Company
Most people today know the Alvin Ailey company, considered a global leader in contemporary dance.
But few remember this company began as just seven African American dancers, aspiring to promote African American culture in the arts.
These seven friends started out with one performance in 1958, intended as a one-night-only engagement at New York City's 92nd Street YM-YWHA.
This evolved into an unlikely tour via station wagon, earning the nickname "the station wagon tours."
Only after 1960, when founder Alvin Ailey choreographed his acclaimed work "Revelations," did the company earn international renown, launching a groundbreaking tour across southeast Asia and Australia as part of President John F. Kennedy's Special International Program for Cultural Presentations.
This followed with decades of global tours, with the company often serving as cultural representatives of the U.S. government, including a 10-country tour of Africa and a landmark tour of the USSR.
This success with bridging cultural divides, as well as the group's athletic and powerful performers like Judith Jamison, helped make the company a sensation.
Now in its 60th year, the company has performed for roughly 25 million people across 71 countries. Its repertoire spans more than 235 works by over 90 choreographers.
At its Smith Center performance, the Alvin Ailey company will perform fresh works showcasing just the latest of its endless evolution.
Please note: the status of these performances has changed. Please visit our information page for COVID-19 related performance updates HERE.