2/14/2017
Broadway Las Vegas / Performances and Artists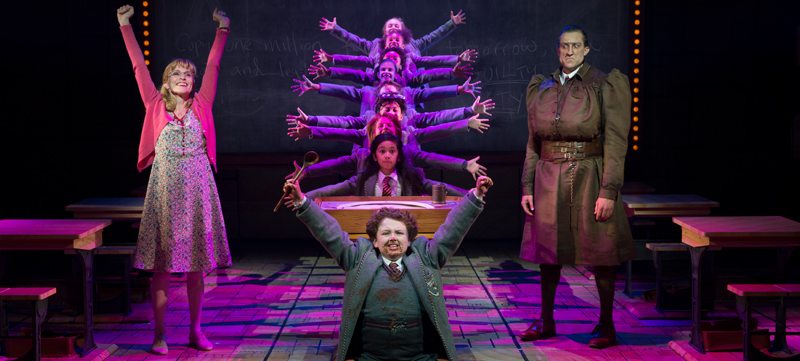 Ask Michael Altbaum — company manager of "Matilda The Musical's" national tour — what it's like working with children performers, and he gives an easy answer: It's a lot like working with adults.
Everything you might imagine children to have issues with, such as homesickness, stage fright, or confusion, are rarely issues.
"We have yet to encounter a kid who isn't up to the rigor of the performances," Altbaum says. "It's a grueling schedule, and we're up front about that, but the kids we have now and the kids we've had in the past have been much wiser beyond their years."
A Full Schedule
With 13 children in the cast, including three rotating actresses playing Matilda and two swings to fill in for other roles, there are a lot of factors to keep in consideration.
For one thing, how children receive an education traveling to a new city almost every week.
Two tutors traveling across the U.S. with the cast help with this, providing each child with tutoring a minimum of 15 hours a week.
To meet labor law requirements of the different states they visit, the children's days don't exceed nine hours, Altbaum adds.
Generally they start with tutoring in the morning, with time later for homework, followed by rehearsals in the afternoon, then dinner and finally that night's performance.
Even though the days are "pretty packed," he acknowledges, there's still time for children to have leisure time, including going to local malls, relaxing by the hotel pool and general "kid stuff."
They also enjoy field trips in various cities to see the sights, Altbaum adds.
"We've made sure since day one the kids are a priority," he says.
A Sense of Normalcy
Keeping a sense of reality for the children is key, Altbaum notes.
"We try to keep them as contained as possible to make sure when they leave the show they're able to go back into real life," he says.
It helps that every child travels with a personal guardian, such as a parent or sibling.
Two more show-sponsored guardians are also constantly on hand to ensure the children are never unsupervised.
For many of the children cast members – a mix of American and Canadian performers – the routine is fairly routine by now.
Most of the young performers have been with the show since last year.
Some have been in other touring productions before this one, Altbaum says, including 12-year-old Jordan Hall, who has performed in both "Motown The Musical" and "The Lion King."
"He's pretty much a pro," Altbaum says.
With the cast of "Matilda" divided about 50-50 between children and adults, the show features children performers more than most, he notes.
Altbaum believes this to be one of the reasons the show has such energy – it showcases highly skilled child actors who are ecstactic to be there.
"They understand what they're doing and the specialness of their environment and this experience," he says. "They're more aware than anyone how cool this is to perform on a professional stage."
"Matilda The Musical" was a part of the 2016-2017 Broadway Las Vegas season.