2/3/2020
Performances and Artists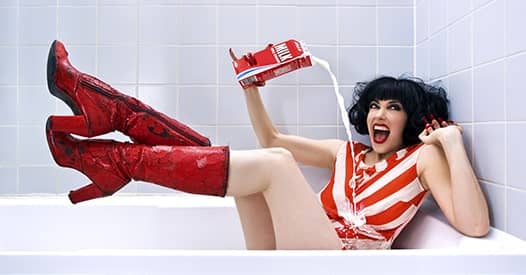 Music, Comedy and Audience Interaction
Speaking with Meow Meow feels akin to talking with several performers in one.
She casually refers to performing recently in a folk opera, and happily describes the feel of the stage in London's legendary Globe theater, where she costarred as Titania in "A Midsummer Night's Dream."
She also touts her love for singing jazz-infused tunes of the Weimar Republic, from early 20th-century Germany.
Her unrivaled versatility and smoky vocals have resulted in an acclaimed career, which includes performing with top symphonies such as the London Philharmonic Orchestra and touring worldwide with music sensation Pink Martini.
Specializing in comedy, singing and theater, Meow Meow promises a wholly entertaining performance at her Smith Center shows on May 1 and 2.
"I love the flexibility of this kind of show," she says. "It's about the group experience, and all of us being smashed together in one room and a celebration of that."
The Full Meow Meow Experience
For the curious, Meow Meow's name originates from her "extreme and hilarious voice," she says, which she describes as ranging from a belt to a purr.
Backed by piano, her performances will offer wide-ranging repertoire and memorable audience interaction.
"I'm always trying to embrace the fact that live performance is different from television," she says. "There's a precious relationship with an audience, where anything can happen."
Meow Meow's audience interaction is "often unexpected," but never insulting, she adds.
"(The show is) primarily beautiful music, but in this particular context it's really about enjoying life," she says.
A Consummate Entertainer
Meow Meow's entertainment career spans eyebrow-raising highlights and quirky jaunts alike.
This includes performing a requiem in a Liverpool graveyard, and starring in her original theater pieces that deconstruct fairy tales. She also costarred as Adelaide in "Guys and Dolls" at the Royal Albert Hall.
"I could play Ms. Adelaide for the rest of my life," she says. "She's got everything. She's funny, and it's all singing and dancing."
She also looks back fondly on being lowered from the ceiling in a shower of rose petals at the Globe theater.
"It's a very live experience," she says of performing at the historic venue. "You can see the audience, they're standing all around you, and it's very direct communication."
While she enjoys theater, she notes, she prefers the unscripted nature of live shows.
And she intends to uphold that at her Smith Center performances.
"There's a sense of freedom to really be, and to celebrate the now," she says. "That's the beauty of these shows."
Meow Meow's performance in Myron's Cabaret Jazz was cancelled due to the COVID-19 pandemic.