1/17/2020
Performances and Artists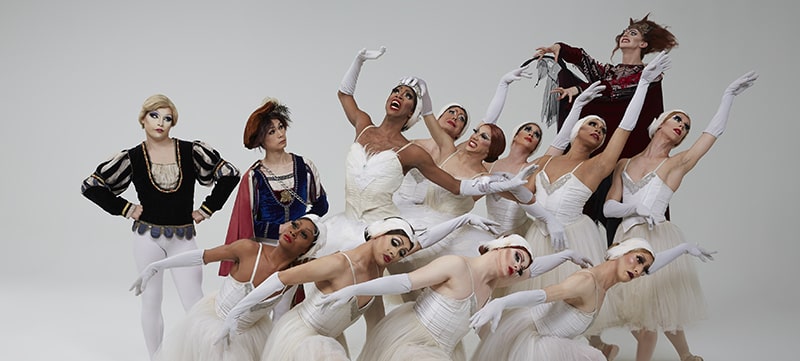 Les Ballets Trockadero to Perform Parody Versions of Classic and Modern Ballets
When Raffaele Morra joined Les Ballets Trockadero de Monte Carlo, he had to get used to a few things.
This included dancing on pointe, a women's dance technique of performing on tiptoe, as the company's all-male cast performs women's roles.
"When I auditioned for Les Ballets Trockadero de Monte Carlo, I had never danced on pointe," Morra recalls. "I had to learn just before joining, and even while performing."
He also had to grow accustomed to hearing laughter from the audience.
Les Ballets Trockadero — also known as the Trocks — carves out a unique niche in the dance world, by performing playful, parody versions of classic and modern ballets.
This involves acting out exaggerated foibles and accidents on stage.
Yet Morra emphasizes that all of the cast members hail from impressive classical training, and take their artform very seriously.
"To have an entire audience laughing at something you do on stage can be off-putting, even when you are doing it with that purpose in mind," Morra admits. "This is because dancers spend hours of their lives in front of a mirror, trying to achieve perfection."
Southern Nevada audiences can expect both immaculate technique and delightful antics, when Les Ballets Trockadero performs on April 15, 2021.
Morra now embraces the comedy, he adds, as he appreciates how it makes ballet accessible to all.
"It's a performance both for ballet lovers and neophytes," he says. "With all the struggles of everyday life, the Trocks offer a wonderful way to spend an evening at the theater, with fun and laughter."
A 40-Year Legacy
The Trocks began in the 1970s, with male dancers who wanted to take a fresh, satirical approach to ballet.
At the time, the all-male cast's performances interwove with a social movement supporting the gay community, largely in response to the 1969 Stonewall riots.
"(Many theater companies) used comedy and drag as a vehicle to express their point of view on society," Morra explains.
As the Trocks evolved through the decades and earned acclaim touring the globe, he adds, its focus changed.
"Our performances have lost the purpose of being a social commentary per se, focusing more on delivering a funny and entertaining performance," he says.
Mixing Athleticism, Grace and Comedy
The Trocks dancers have much to juggle, Morra notes.
Performing the women's roles of classic ballets — including delicate Victorian ladies and princesses — requires finesse that women spend a lifetime training to achieve.
The cast members also still dance the male roles, involving more athletic, jump-heavy choreography.
"It is difficult to really master both (female and male techniques), and this is one of the main challenges," Morra says.
Adding in comedy makes this even more complex, he adds.
The company applies two schools of thought to its parodies.
First, the cast members insert playful moments into the actual ballet choreography, so the jokes remain with any performer.
And second, the company "gives a big importance to individuality," Morra says, letting each dancer shine with their own comedic personalities.
The performers make it all work, he adds, with their love for ballet.
"Through their technique, their great personalities and their sense of humor, they enrich ballet with different nuances and deliver incredibly entertaining and fun performances all over the world," he says.
See the Show
Les Ballets Trockadero de Monte Carlo performs on April 15, 2021. For tickets, click here.