10/4/2017
Community Impact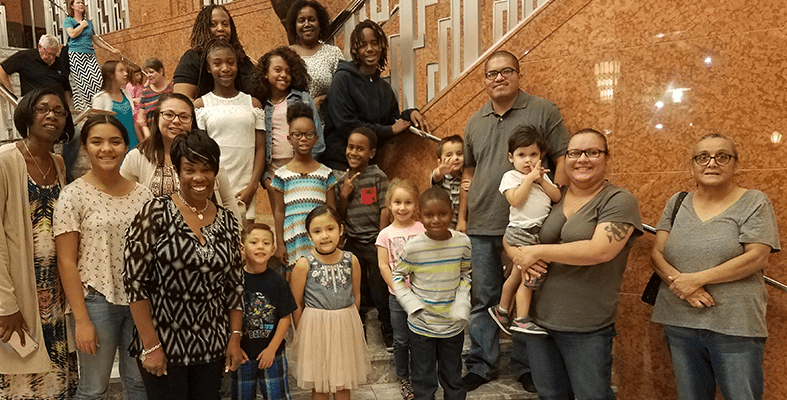 Immediately after the family musical "Go, Dog. Go!" ended at The Smith Center on Wednesday, a group of a dozen kids were among the first to rush into the lobby to hug and pose with the show's actors.
All smiles, the children swapped opinions about their favorite parts, and dreams of going into the theater one day.
"This really inspires you to want to act," said KeNiya Williams, 13. "I would tell other people my age to be more aware of stuff like this."
This was not just any night at the theater for this group of children and their parents from downtown Las Vegas. For most of them, this served as their first chance to see a live performance.
Accompanied by Officer Regina Coward, these local families had been chosen by the Las Vegas Metropolitan Police Department to receive subsidized tickets from The Smith Center to attend the high-energy show adapted from the popular children's book of P.D. Eastman.
"It was a great experience," said parent Teresa Dixon, still smiling wide after the show. "A lot of kids don't get to come out and experience something like this. It had a great impact on a lot of kids, and they really enjoyed themselves."
This marks the first effort in a new partnership between the Las Vegas Metropolitan Police Department and The Smith Center to pursue Community Arts Related Events (C.A.R.E.) that promote the arts among community members living in downtown Las Vegas, while also providing a chance for positive engagement with local officers.
"This was the first event that they had attended at The Smith Center," Officer Coward said of the families she accompanied to the show. "Despite some of the kids being older, they still thought 'it was amazing to go to the place we only see on TV.'"
The children also enjoyed the opportunity to get to know a local officer on a friendly level.
"They were all so pleasant, and they addressed me by my name," Officer Coward said.
These activities are made possible by funding from a Nevada Arts Council grant.
More families will benefit from this collaboration soon.
The Smith Center will further provide subsidized tickets for Las Vegas Metropolitan Police Officers to give downtown families to experience interactive show "Erth's Dinosaur Zoo" in October, as well as each show in The Smith Center's highly anticipated dance series, including iLuminate, MOMIX and Pilobolus.
Beyond this, University of Nevada, Las Vegas medical students, as well as staff and families from Grant a Gift Autism Foundation, also received subsidized tickets to see recent Broadway play "The Curious Incident of the Dog in the Night-Time" at The Smith Center.
Experiencing live theater not only gives children positive memories, but also teaches them life lessons, Dixon added on Wednesday.
"They can see that even with these characters in a book brought to life on stage, that we all have the same types of issues," she commented. "We all grow up and learn and need to make better choices."