3/14/2018
Education and Outreach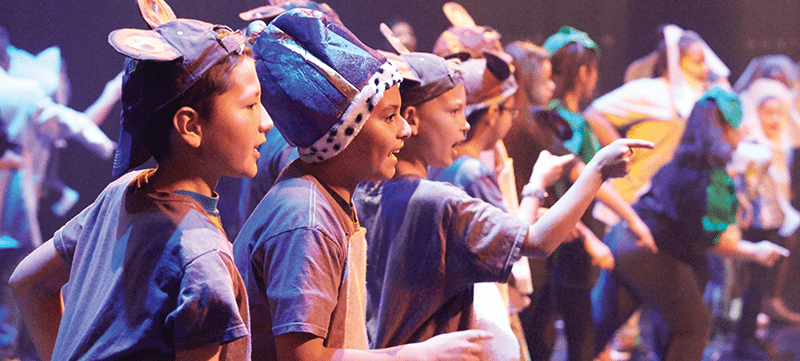 After attending a student matinee at The Smith Center with his class, Mendoza Elementary teacher Charles Michel was glowing.
"This is very powerful for the students," he said. "(Early exposure to theater) encourages kids to do well academically and gives them a purpose."
Little did he know, this student matinee — like all of The Smith Center's education and outreach programs — was tied to a comprehensive, communitywide program to expose students to the arts.
In December 2010, Las Vegas became the fourth city in the U.S. to join The Kennedy Center's national Ensuring the Arts for Any Given Child initiative.
This initiative assists cities across the nation with developing a strategic plan alongside their local arts organizations and school districts.
The goal: to provide equal access to arts education for all local students, at all grade levels.
"The arts, just like math, science and language arts, should be part of everyday, basic instruction for all students," explains Candy Schneider, vice president of education and outreach at The Smith Center. 
Rallying for a Common Purpose
Ensuring the Arts for Any Given Child Southern Nevada is collectively focused on just that. 
Now in its seventh year, this program involves organizations across Southern Nevada providing impactful arts resources for K-12 students and teachers at all 356 schools in Clark County School District (CCSD).
"This includes sequential classroom instruction by specialists in a variety of arts disciplines, and arts experiences provided by the community, like field trips or in-school performances," Schneider says.
These are coordinated following the strategic goals developed by numerous local partners like The Smith Center, the City of Las Vegas, CCSD, Nevada Ballet Theatre, Las Vegas Philharmonic, Discovery Children's Museum and more.
The Smith Center has played a vital role since the start, providing arts education experiences for tens of thousands of students a year.
All participating organizations secure funding for their arts resources, so no schools are charged.
"You have a constant advocacy for why the arts are important for young people," Schneider says. "This constant and collective voice of 'We are committed to this, this is important for every child.'"
A National Evaluation
Now this initiative's success will be documented.
With 25 cities nationwide now participating in Any Given Child, The Kennedy Center has selected Southern Nevada to participate in a national evaluation of this initiative's impact.
With The Smith Center hosting this evaluation, there are many encouraging updates to present.
In just the 2016-17 fiscal year, over 143,000 students in Southern Nevada were served with community arts resources under the umbrella of Any Given Child.
"Our school district is the largest Any Given Child site," Schneider says.
Impact Beyond Nevada
The Smith Center has also helped grow Any Given Child nationwide.
The Kennedy Center tapped Schneider to serve as a consultant, helping cities across the U.S. to develop their own strategic plans to expand arts education in schools.
"To travel to those cities and be part of their strategic plans, we learn a lot," she says.
So far, she has helped to facilitate strategic plans with: Fresno, California; Harrisonburg, Virginia; Madison, Wisconsin; Indianapolis; Meridian, Mississippi; and Washington D.C.
All have had success implementing Any Given Child with their community's resources, she says.
"It's great to hear other communities' innovative and creative ideas and how they work together," Schneider says.