1/17/2018
Education and Outreach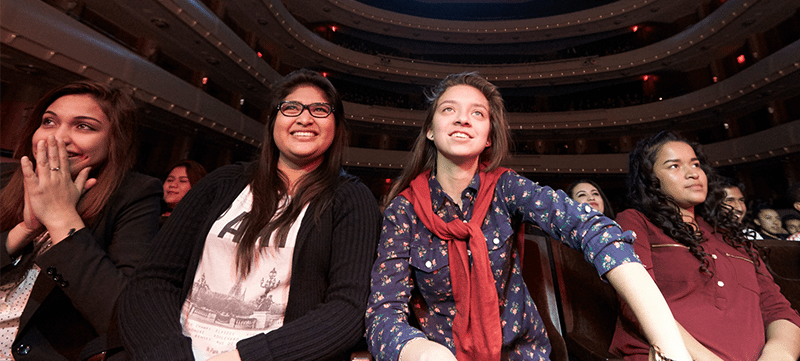 National Study Measures Impact of Live Theater on Literacy
Are your kids struggling with reading comprehension? Try taking them to a theatrical production adapted from a book they're reading.
It will likely help them understand the book – and The Smith Center is helping document just that.
This January, The Smith Center is one of just 16 performing arts centers in the U.S. participating in a nationwide research study by Purdue University examining the benefits of live theater for students' literacy.
"This is an exciting opportunity for us to participate in national research," says Candy Schneider, vice president of Education and Outreach at The Smith Center.
The Smith Center remains a strong advocate of live theater benefitting children's literacy.
As a nonprofit, the center presents student matinees to tens of thousands of Southern Nevada students each year, at no cost to schools.
Many of these shows are adapted from books, and The Smith Center provides classrooms with copies of the literary source material to read and study before seeing the productions.
"Watching characters come alive on stage can help students connect with storylines and characters on a deeper level," Schneider says. "A live production also allows children to absorb information while using their imaginations, which increases their engagement and retention."
How the Study Works
The Smith Center was invited to participate in Purdue University's study in conjunction with the center's presentation of student matinees of Enchantment Theatre Company's touring show, "My Father's Dragon."
More than 8,500 students from over 70 schools will attend matinees of the show at The Smith Center.
While all of the schools attending the performance will receive copies of the show's literary source, "My Father's Dragon" by Ruth Stiles Gannett, roughly 2,100 students from 19 schools will participate in the research study.
"Some students will take a quiz measuring their understanding of the book before they see the show," Schneider explains. "Other students will take the quiz after they both read the book and see the show."
Purdue University, assessing more than 10,000 students nationwide for the study, will measure if children who read the book and see the performance have better comprehension of the story.
Early Introduction to Theater
Beyond supporting students' literacy, The Smith Center's student matinees also provide children with early exposure to the performing arts.
"Many of the children coming to The Smith Center are on their very first field trip," Schneider says. "They are filled with excitement and wonder as the school bus pulls up in front. Entering the theater, the students are in awe of the extraordinary architecture and interior."
While the students have read the book and discussed in class how the performs will bring the story to life, she says, actually experiencing the live performance can be magical.
Each of the student matinee shows are designed for young audiences, and invite students to actively engage in creativity and collaboration, she adds.
"For many students, this may be the first time they have experienced live theater," Schneider says. "By presenting these matinees, we are introducing students to a wonderful world of storytelling presented by inspiring performers from all over the world, hopefully sparking a lifelong love for the performing arts."