4/21/2020
Community Impact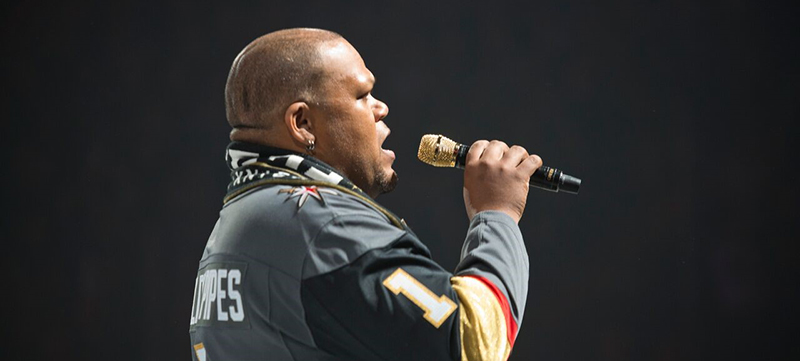 Smith Center supervisor Carnell Johnson says he originally started working at The Smith Center because he loves the performing arts and wanted to be closer to them.
A professional singer for more than 20 years, Johnson, who also sings the national anthem at Vegas Golden Knights games, says being close to live music is what he enjoys most about his job at The Smith Center.
In fact, eight years later, Johnson is now one of the longest-serving members of The Smith Center's guest services staff, overseeing a team of ushers to make sure that guests have a positive experience the moment they walk through the doors.
Yet with the global pandemic that has shuttered theaters and concert venues across the country, Johnson, like so many others, finds himself at home with a lot of time on his hands these days. To cope, Johnson says he is turning to music to boost his mood and keep his creative batteries charged.
"Over the last few weeks, I've been keeping busy recording music and doing live shows on the big social media platforms such as Facebook, Instagram and Twitter," says Johnson, who adds that being the Golden Knights anthem singer gave him a stepping stool to launch a performing career with his best friend here in Las Vegas.
Johnson, a Las Vegas native who holds a degree in music education from the University of Nevada, Las Vegas, says that a highlight of being the the anthem singer for the beloved Golden Knights is being able to be a positive entity in his home city.
"I love singing the national anthem at the games," says Johnson. "It's such a cool feeling having grown up here."
Johnson was among more than 1,000 people who applied to become the anthem singer for the Golden Knights, and he still keeps the email he received announcing his success after a video and live audition.
And while singing for the Golden Knights has definitely opened doors and led to new performance opportunities for Johnson, he says that working part-time at The Smith Center throughout it all never lost its appeal.
"Honestly, I love it at The Smith Center," he says. "I love the sense of family there, the interaction between the departments, so many things."
Johnson has a particularly special relationship with The Smith Center, having performed at the center's opening night in 2012 in the back-up chorus for Jennifer Hudson. That's why he is so hopeful that better days are ahead.
"I think it will take time for Las Vegas to bounce back from something so unprecedented, but we're a strong city," says Johnson. "We'll get through this and be better than ever."