4/20/2018
Community Impact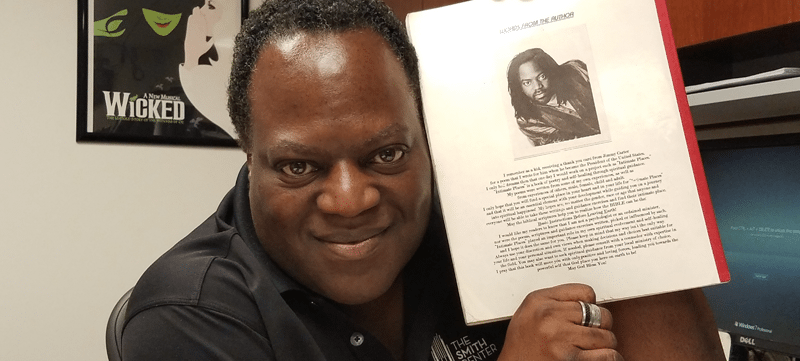 Many employees at The Smith Center are familiar with the book shelved in the office of Darrin Worthy, Associate Director of Front of House.
The ushers Worthy oversees are even known to drop by on their breaks to peel back its vibrant cover, peruse the pages' cursive stanzas and reflect. 
That's just what Worthy hoped to achieve with the book when he wrote it.
"I wanted to write something that was going to reach everyone," Worthy says.
Beyond his respected career in the entertainment industry — which includes helping open The Smith Center and working with Celine Dion, Elton John, the Blue Man Group and more — Worthy has a talent that he has made it his personal mission to share.
A lifelong poet, Worthy dedicated a year of his life to painstakingly penning his self-published book of poems, "Intimate Places." The 45 poems draw from the broad canvas of his life, spanning gritty experiences he witnessed growing up in Brooklyn, the physical and emotional battles his loved ones endured, and his own spiritual reflections.
Eager to spread its message of humanity and self-healing, Worthy has performed the book in a one-man show throughout New York City.
He still performs passages at clubs and special events across Southern Nevada.
"Sometimes when I perform, people come up to me and say 'This book saved my life,' because they needed to hear those words right then and there," Worthy says. "That's what makes it all worth it."
A Life of Verse
Worthy has been inking poems since second grade, from odes to chocolate to a poem he sent to then-President Jimmy Carter, which garnered a thank-you card in return.
"I was always a creative writer," he remembers.
As a young man, Worthy envisioned a book reaching beyond his usual literary introspection. Living in New York City at the time, he shut himself away for a year and focused on drafting powerful poems to inspire and empower others.
When he received contradictory responses from publishing houses that dubbed his work either too spiritual or too graphic for their brands, he self-published the book in 2000.
"Because of that, I was able to do it the way I wanted to," he explains of formatting it as a workbook, with healing and aspirational segments accompanying each poem.
At the behest of his pastor, Worthy shared the book at sold-out performance at citywide clubs, venues and coffee houses.
"It's a great feeling (of accomplishment)," Worthy says. "Sometimes you feel like you're just one person, but I do know sometimes one person can make a difference in others' lives."
Inspiration from Theater
Worthy has worked hard to keep the arts in his life, providing front-of-house services for leading Las Vegas headliners after his four years of service with Nellis Air Force Base.
Now one of The Smith Center's longest employees, he invests himself daily in providing high-quality guest experiences at every music, dance and theater show.
His passions for poetry and the performing arts feed each other, Worthy adds.
"It's igniting to be around theater and the arts," he says.
Worthy isn't through yet, with plans to publish more copies of his book. He also has a follow-up book in the works, with the titular poem "You" inspired by his late mother.
"It's been a powerful journey, even with just the one book," he says.