4/11/2018
Education and Outreach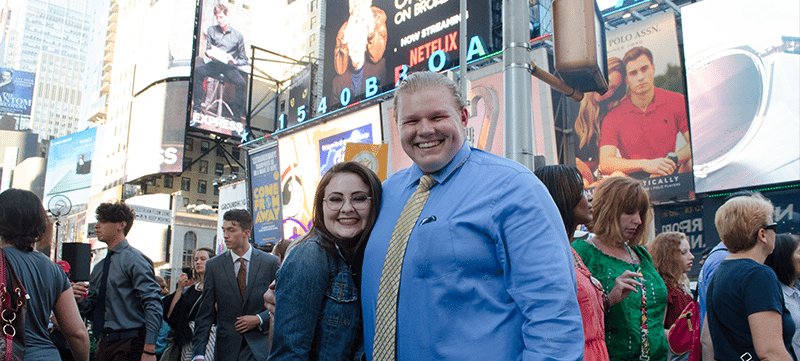 Not many teenagers can say they have sung and danced on a Broadway stage.
Every year, however, The Smith Center for the Performing Arts provides this rare experience for two Nevada high school students.
Thanks to the generous support of the Elaine P. Wynn and Family Foundation, The Smith Center sends the two winners of its annual Nevada High School Musical Theater Awards (NVHSMTA) to New York City, where they represent Nevada in the National High School Musical Theatre Awards (the Jimmy Awards).
This 10-day trip, complimentary for the students, includes coaching and rehearsals with top Broadway professionals, housing at New York University, and performing solo and ensemble numbers at the Minskoff Theatre on Broadway.
Two talented high school students will enjoy this life-changing experience soon, with this year's NVHSMTA competition approaching on May 13.
Read below about this past year's trip in our interview with NVHSMTA Best Actress winner Adelynn Tourondel, who competed at the 2017 Jimmy Awards alongside Nathan Sink, Best Actor winner.
1. How did it feel to participate in the national Jimmy Awards?
It was honestly such an honor. I never really thought about it as a competition because I felt like I was winning just being there. 
2. What kinds of opportunities were there to grow as a performer?
The biggest opportunity was being able to meet so many people. The (performing arts) business is a lot of networking, so it was great to meet 74 other talented competitors, plus other amazing people such as professional performers, choreographers, casting directors, directors and stage managers. 
3. What was your favorite part of the trip, and why?
My favorite part of the trip was learning the group opening number (for the competition). The staging worked like magic, and the amount of songs from running shows that they fit in to make a piece that everyone could connect to was truly incredible. 
4. What was involved with preparing the solo and ensemble performances for the Jimmy Awards?
It consisted of 10-12-hour rehearsals every day, which is clearly exhausting. There was staging/choreography, learning vocal parts, and solo lessons, as well. To put it in perspective, we are putting on a full-length show in just one week.
The pay-off of being on a Broadway stage is really the reassurance that overall, the whole week has been worth it. 
5. Were there any key lessons you learned from the theater professionals you worked with?
A key lesson for me is that when you are auditioning for a show, you need to remember that there are many talented people, and casting directors are looking for something specific. Just because they did not cast you does not mean that someone else will not. 
6. What was it like to perform on a Broadway stage?

Indescribable. To be able to look out from the stage and know that you have reached the ultimate goal of just being there is enough to bring tears to almost every performer's eyes. 
Your Student Could Be Next
The Smith Center's 2018 Nevada High School Musical Theater Awards occurs on Sunday, May 13.
Schools across Nevada have until April 18 to submit applications for their students to participate.