5/25/2020
Education and Outreach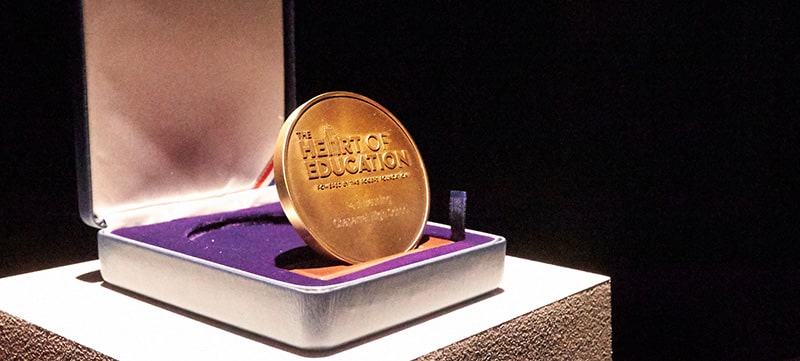 As a teacher with Dr. Beverly S. Mathis Elementary in Las Vegas, Kari Bastin strives to support students of all abilities.
"Children come to school with so many different strengths and challenges," Bastin says. "It is essential they feel like people notice their accomplishments, no matter how big or small."
This inspired the teacher of 23 years to create a Best Buddies program at her school, to provide inclusive experiences where students with intellectual and developmental disabilities interact with their peers.
The results speak for themselves.
Many students, including those with and without disabilities, eagerly attend the bimonthly activities like buddy reading, movie nights and crafting — creating friendships that promote inclusion and acceptance.
"Watching children participate in these activities together and forge friendships has been an amazing experience," she says.
The Smith Center honored hundreds of hardworking teachers like Bastin this month through its fifth-annual Heart of Education Awards — even after cancelling the April awards event, in accordance with public health and safety guidelines.
As a nonprofit, The Smith Center recognized over 800 finalists for the awards program, celebrating CCSD educators who go above and beyond for their students and schools.
Thanks to generous support from The Rogers Foundation, the center honored the top 20 educators with a $5,000 cash award each, plus a $1,000 donation to each of their schools.
"The expertise, labor and dedication teachers provide for our schoolchildren is nothing short of remarkable," says Myron Martin, Smith Center president and CEO. "Now, the coronavirus has disrupted schedules and forced a shift to online learning that requires even greater mental effort and preparation. Our CCSD teachers take all of this in stride, showing us that they are not only committed to our children, but that they are resilient, innovative and imaginative."
Celebrating Teachers at Home
In the past, The Smith Center's Heart of Education Awards event featured live performances, surprise keynote speakers such as former First Lady Laura Bush, and swag bags for all of the finalists.
Although the event didn't occur this year, teachers still received much-deserved recognition.
The Smith Center provided surprise gifts to all of the roughly 800 awards finalists, each nominated by peers, students and community members.
Thanks to the support of numerous community sponsors, each finalist received a wide variety of special items. These included coupons for Allegiant Air, a complimentary game at Brooklyn Bowl Las Vegas, free fitness classes at The Gym Las Vegas, a free reservation card to Topgolf, and even a complimentary dental exam, X-rays and hygiene package with Las Vegas Dental Group.
Chosen by a panel of judges from across the community, the top 20 teachers each received a commemorative medallion, a $5,000 cash award and a $1,000 donation benefitting the school program of their choice.
Trips Around the World, Community Service and More
The 20 award recipients included Centennial High School teacher Richard Pokropski, whose JROTC program (Junior Reserve Officers' Training Corps) completed over 10,000 hours of community service last year alone.
Bianca Bautista, Spanish teacher with Las Vegas Academy of the Arts, inspires her students to become global students with cultural trips to Spain, Costa Rica, Puerto Rico and Peru.
Teacher Claudia Ahumada empowers African-American students through her Pretty Brown Girls after-school program at Kermit R. Booker Sr. Elementary School.
Students with Donato Avila's mariachi program at John C. Fremont middle School compete and perform nationwide, and he spearheaded an all-state mariachi event hailed as first of its kind in the nation.
"Patience, dedication, and heart are what I always hope to bring to my students, their families and our community," Avila says.
Opening Doors for Students
These teachers work "selflessly and without hesitation" to nurture a love for learning and discovery, says Beverly Rogers, chairman of The Rogers Foundation.
"What teachers do is the most important thing one human being can do for another: open doors," Rogers says. "This is why we are honored to celebrate them again this year."
The 20 award recipients for the fifth-annual Heart of Education Awards include:
Belisa M. Brownlee, Rancho High School
Bianca B. Bautista, Las Vegas Academy of the Arts
Carolyn H. Lara, Spring Valley High School
Claudia Ahumada, Kermit R. Booker Jr. Elementary School
Crystal M. Massengale, E.W. Griffith Elementary School
Donato A. Avila, John C. Fremont Middle School
Elisa Marchesch Hickey, Western High School
Elizabeth A. Harris, Lied STEM Academy Middle School
Kari M. Bastin, Beverly S. Mathis Elementary School
Kelly Wagner, Green Valley High School
Kimberly Law, Mabel Hoggard Elementary School
Mark I. Nekoba, Jack Lund Schofield Middle School
Matthew Christian, Barbara and Hank Greenspun Junior High School
Michelle E. Taylor, Mabel Hoggard Elementary School
Pamela T. Honey, Martha P. King Elementary School
Richard C. Pokropski, Centennial High School
Robert C. Cuccurullo, Coronado High School
Tiffany Grant, Lawrence Junior High School
Tyler P. Swick, Robert and Sandy Ellis Elementary School
William John Love, Liberty High School