2/17/2020
Performances and Artists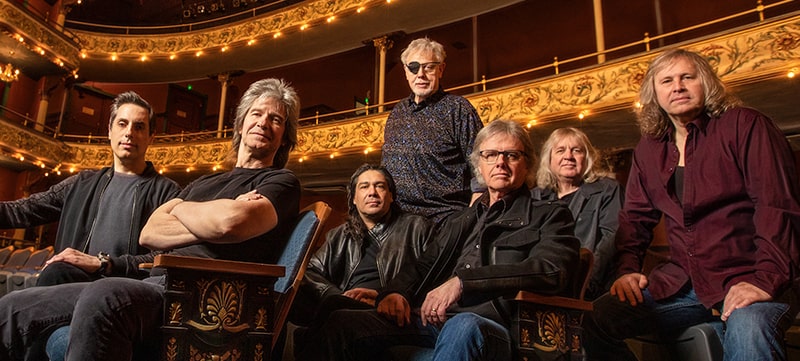 Classic Rock Band Kansas to Perform New Tunes and Greatest Hits
When David Ragsdale chose to pursue a rock career in the '70s, he promptly gave up the violin to learn guitar.
"I figured, there weren't no violins in no rock bands, you know?" Ragsdale recalls.
Or so he thought, until the day he heard a Kansas song for the first time on his car radio.
"Here comes this rock song with this rockin' violin player, and I'm like, 'wait a minute, maybe I need to rethink this career path,'" Ragsdale remembers.
He returned to the violin ⁠— not knowing he would eventually play it with the legendary group that inspired him.
A member of Kansas since the early '90s, Ragsdale helps uphold the band's iconic style and sound, including its versatile musicality that included a violin from the start.
"It's awesome. I hate to use such an overused word, but it fits," Ragsdale says.
On the heels of recording its newest album, Kansas visits The Smith Center on May 28 to perform the group's latest hits and its many classics such as "Dust in the Wind."
"The music is incredible, and it's very fun to play," Ragsdale says. "It's a very satisfying musical thing to do."
Hits to Last the Generations
Ragsdale expresses no surprise that Kansas has retained fans worldwide since its inception over 40 years ago.
"(The band's songs are) extremely accessible to every age of listener. You don't have to be a musicologist to understand it, which is kind of rare for progressive rock," Ragsdale says. "There was always a popular aspect to even the most complex of Kansas' songs."
While Ragsdale wasn't with the group at the time, he says the band members knew they had solid hits when they penned songs such as "Carry on Wayward Son" and "Point of Know Return."
"I remember the first time I heard that song and I thought, 'Wow, I'm sure I'll hear this quite a few times,'" he recalls.
Keeping the Violin in the Band
Ragsdale's fandom actually helped preserve the nature of the band.
After the group divided in the early '80s, then reformed in 1985, Ragsdale felt shocked to learn that the group no longer included a violinist.
"A friend of mine said 'you ought to take one or two of their new songs and come up with a violin part, and make a recording and send it to them,'" he remembers.
He did so. The recordings made their way to the band's drummer and manager Phil Ehart, and Ragsdale found himself a member of the group within a few years.
"There are just too many," he says of the biggest highlights so far. "It's a fun ride."
A Changing Industry
The band members have witnessed many changes to the music industry across the decades, Ragsdale concedes.
"They've taken the fun out of it," he says of recording studios. "The popular music today, the airplay stuff, is scripted and dictated."
That's why he feels all the more passionate about preserving Kansas' epic melodies. He promises Smith Center audiences a performance that will live up to the group's reputation.
"(Audiences) can expect to hear a really good band with really good music, and they can expect to have a really good time," he vows.
SEE THE SHOW
Kansas performs at 7:30 p.m. on May 28. For tickets, click here.