11/2/2018
Performances and Artists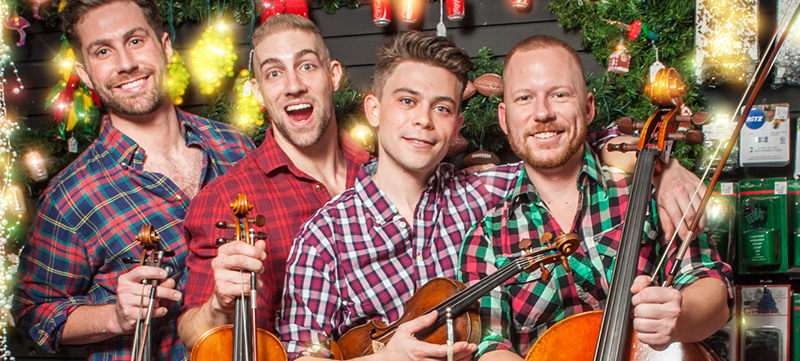 Mixing Classical and Pop
It never occurred to Edmund Bagnell that he would find a job combining both his college major of violin performance with his lifelong love of singing.
That is, until he heard about auditions in 2012 for a new group with a crazy idea.
"I saw the opportunity to be in a group that combined singing and playing (classical instruments). At the time, they didn't even quite know how we were going to combine the two," Bagnell remembers. "It was very appealing that this would be our product, and we'd be in control of what we created."
The result was Bagnell joining the wildly talented and wholly one-of-a-kind singing string quartet Well-Strung, featuring four string musicians who play well-known classical pieces while simultaneously singing hit pop tunes by artists like Taylor Swift, Rihanna and more.
Performing a high-energy holiday show on December 6 and 7 at Myron's Cabaret Jazz, the group has enjoyed dizzying international success with its completely original stylings.
"We really like the idea of presenting classical and pop – it's all good music to us," Bagnell says. "For some audiences, when we play pop and classical pieces together, they might go, 'I didn't realize I liked Bach.' People really respond to it."
Lifelong Performers Discover a New Sound
The group's members, including Bagnell and Christopher Marchant on violin, Trevor Wadleigh on viola and Daniel Shevlin on cello, have all been lifelong musicians.
"All of us have been playing since we were kids. It's a big part of our lives," Bagnell says.
The group found its sound gradually, he adds. Initial shows alternated between playing classical pieces and singing pop songs, until the idea sparked to combine them.
"We started with singing a Kelly Clarkson song while playing Eine Kleine Nachtmusik, and we thought, 'gosh, there's really something here,'" Bagnell recalls. 
This quickly became the group's niche, with the artists fusing a host of pop favorites with classical staples, such as the Grieg Quartet with Miley Cyrus' "Wrecking Ball," and Pachelbel's Canon with Green Day's "21 Guns."
"I'd like to say it gets easier, but you have to separate your brain while you're playing and singing," Bagnell says with a laugh.
The group also still performs straight classical and pop pieces separately, Bagnell adds, sometimes playing themed performances, like a recent show paying homage to movie music and film scores.
"We don't force it (with mash-ups)," Bagnell says. "We choose music we like, that's always a great place to start. If someone has a great idea of two pieces that will go together beautifully, we'll do it."
International Success
The group's simple concept has exploded far beyond what the performers imagined.
Since the group launched, Well-Strung has performed around the world — including at the Vatican and a gala for President Barack Obama — given concerts at top venues like Feinstein's/54 Below, been featured on the "Today" show, and performed alongside top artists like Neil Patrick Harris and Kristin Chenoweth.
"There isn't a lot out there that combines classical and pop," Bagnell says of the group's unique appeal. "We've also worked really hard to get the best sound we possibly can."
An Infectiously Fun Holiday Show
Well-Strung's holiday selections are Bagnell's favorites, he says.
The group's upcoming holiday shows at The Smith Center will include energizing renditions of festive favorites that are sure to get audiences in the spirit of the season.
This will include holiday staples like "Sleigh Ride" and "Silent Night," plus fun surprises like a mash-up of Dolly Parton's "Hard Candy Christmas" with the Humming Chorus from Giacomo Puccini's opera, Madam Butterfly.  
"It's songs we all know, with a really fun take on them," Bagnell says. "We'll definitely be playing really popular pieces, but we've also chosen things people don't expect."
"A Well-Strung Christmas Starring Edmund Bagnell, Christopher Marchant, Daniel Shevlin and Trevor Wadleigh" in December 0f 2018 in Myron's Cabaret Jazz.