4/2/2019
Performances and Artists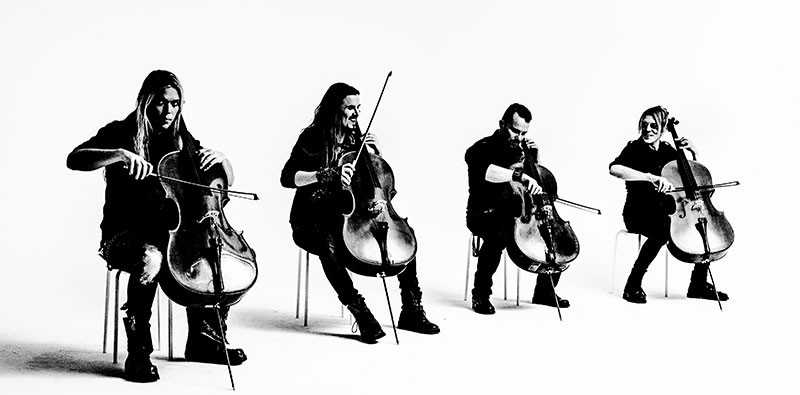 Classical Artists Meet Rock, Heavy Metal and More
Odds are, you know what you like to hear at Smith Center concerts.
Maybe you enjoy shows with big-band stylings like the Lon Bronson Band, or jazz and pop artists such as Michelle Johnson, or amped-up classic rock at Brody Dolyniuk concerts.
Should your interest span any of these styles or polished performers, consider an idea: It might be time to try a classical music performance at The Smith Center.
Don't dismiss the idea too quickly.
Whether your tastes span rock, country, jazz, blues or more, classical artists can offer more to entice you than you realize.
Breaking Beyond the Classical Bubble
Like the many talented artists you already enjoy at The Smith Center, the renowned classical musicians the center presents throughout the year have dedicated their lives to mastering their instruments and honing their showmanship.
And also like other artists today, classical musicians are shattering traditional musical genres.
Many classical performers featured at The Smith Center fuse classical stylings with a wide range of genres and sounds — making classical music more accessible and compelling than ever before.
Just look at Vegas-based Bella Electric Strings, a collective of all-female electric violinists striving to surpass classical stereotypes.
"Traditionally when you think or rock music, you think of guitar players, not violinists. We set out to shatter that mold," says group Founder Nina DiGregorio.
Always packing seats at Myron's Cabaret Jazz at The Smith Center, Bella Electric Strings blends high-energy choreography with electrifying string arrangements of classic rock anthems.
"If people go in thinking they're going to hear Beethoven, they'll leave having heard Black Sabbath," DiGregorio says.
Likewise, David Perrico and his virtuoso Pop Strings Orchestra thrill audiences at The Smith Center by performing an entertaining range of Latin, pop and even Disney tunes.
Touring artists offer their own bold experimentation, such as The Piano Guys and Well-Strung, two renowned groups of classical performers beloved for clever mash-ups of classical masterpieces with modern hits by the likes of Kelly Clarkson and Dolly Parton.
Even the conservatory-trained string trio Time for Three worked with top Nashville songwriters to perform original pop tunes at The Smith Center.
"We don't fit into a pigeonhole," explains Ranaan Meyer, Time for Three's double bassist. "(From the start), we were just three guys who liked to play more than classical music."
Other Upcoming Classical Performances
Violinist Joshua Bell Performs with the Bell-Denk-Isserlis Trio – May 6
Violin virtuoso Joshua Bell is as close to a rock star as a classical artist can get.
Since debuting at Carnegie Hall at 17, he has become a bestselling recording artist, Grammy winner and one of the most popular classical soloists worldwide.
He has even expanded to film and television, making featured appearances in hit shows like Amazon's "Mozart in the Jungle" and recording soundtracks for several movies, including the Oscar-winning soundtrack for film "The Red Violin."
Bell performing live at The Smith Center is, needless to say, exciting — all the more so because he is playing with two other world-renowned musicians, pianist Jeremy Denk and cellist Steven Isserlis.
Touring just 11 cities nationwide together, the trio will perform classical masterworks by Shostakovich, Ravel and Rachmaninov and more with the flare of their rare pedigree.
This marks a rare opportunity and ideal introduction for anyone curious to experience classical music at its very best.
Apocalyptica Plays Metallica By Four Cellos Tour – May 8
The explosive melodies of heavy metal band Metallica rocked the globe in the 1990s — even in Finland That's why four classically-trained Finnish musicians at the time decided to form Apocalyptica, a cover band performing nothing but heavy metal, entirely on cellos.
Twenty years later, after honing the band's focus purely to Metallica, Apocalyptica has become a global sensation itself.
Not only has the group released eight albums selling millions of copies worldwide, it performs across the globe That includes opening twice for the actual Metallica.
Renowned for playing with thrilling intensity and encouraging audience sing-alongs, Apocalyptica's gifted cellists transform Metallica's celebrated canon into an immersive experience.
The Bell-Denk-Isserlis Trio and "Apocalyptica Plays Metallica" By Four Cellos Tour were a part of the 2018-2019 season