1/11/2021
Discovering The Smith Center / Retrospective Series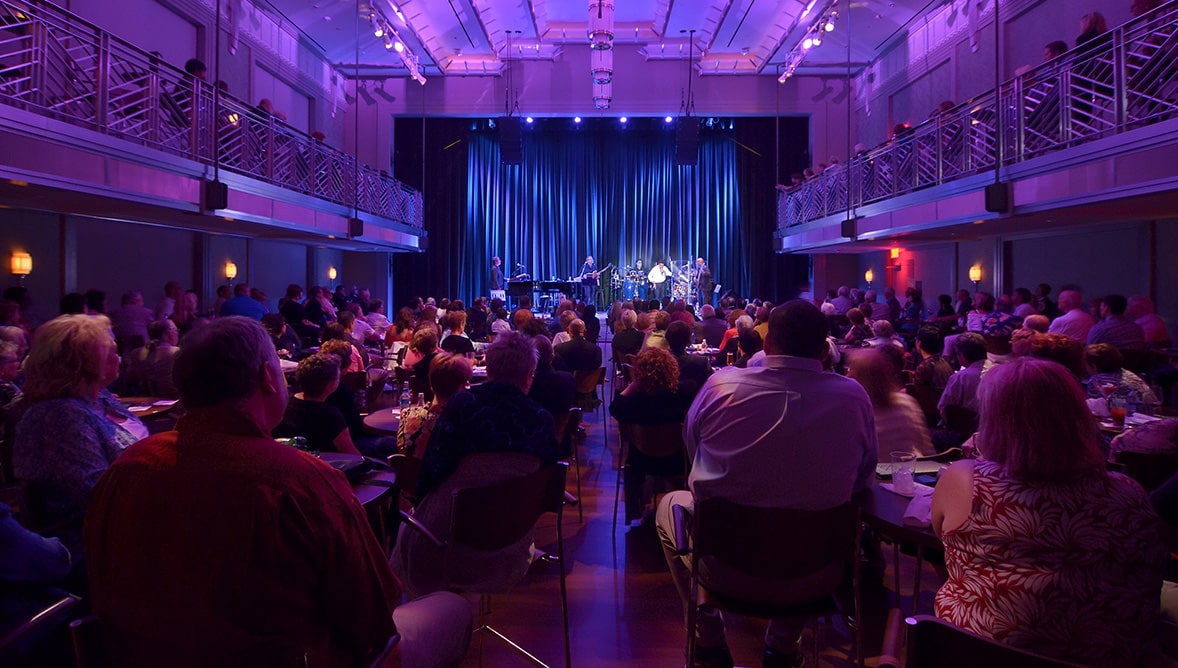 When life gets hectic, many crave the simple escape of lifting a glass, sinking back in a chair and being taken away to a beautiful place and enjoying an intimate, uplifting concert.
All the better if the performer stands mere feet away, connecting with the audience in a cozy room with extraordinary acoustics.
Smith Center President and CEO Myron Martin delivered this very gift for Southern Nevadans, through his creation of Myron's Cabaret Jazz, the most intimate of The Smith Center's three theaters.
"Sometimes I talk about the Cabaret Jazz like it's my baby, and in some ways it is," Martin says.
With 240 seats, this space remains hailed as the best in Las Vegas for enjoying live music.
Martin — who played a pivotal role in The Smith Center's creation — conceived and shaped every detail of the venue.
This resulted in a special surprise during The Smith Center's 5th Anniversary Concert in 2017, when the center's board honored Martin by naming the venue after Myron.
Now, live music fans look forward to their next special night at Myron's Cabaret Jazz.
It's no wonder that they do. This venue is unlike any other in the world — and Martin fought to make it so.
"One thing is clear, and that is there would be no Cabaret Jazz without Myron and his vision," says Don Snyder, board chairman of The Smith Center.
Creating a Venue Like No Other
For well over a decade, Martin worked to help fundraise and design The Smith Center.
This included pursuing a special vision of his own.
Drawing from vast experience with the performance industry, Martin imagined a sophisticated yet approachable venue at the center just for up-close concerts, where audiences could also indulge in drinks and lite bites.
Although the center's initial design didn't include such a space, Martin strongly advocated for it, which included persuading board members and communicating his concept to the design team.
"From the beginning I really pushed for this room, about the shape and size, the architecture of what it should be, if there would be a mezzanine, how the stage would be set up, all of those things," Martin says. "I wanted it to be, first and foremost, for live music. It is not a theatrical space. It is a place for music."
"My biggest debates with the design team revolved around this room. David Schwarz originally thought it should be something more like a hotel ballroom, and it took a while for him to see my vision for an extraordinary music venue. Once the design team had a common goal, every detail came together nicely. I know that they are all proud of how this place turned out. It's sexy, it is cool, it is chic, and it delivers on its goal of sounding great."
While Martin took inspiration from the world's leading small venues and jazz clubs like Jazz at Lincoln Center, Feinstein's, the Edison Ballroom, Birdland, and 54 Below, he created his own original design for the venue.
The two-story, cabaret-style theater offers floor seating mere feet from the stage and a birds-eye view from the mezzanine.
It also includes cutting-edge acoustic engineering. Floral celadon silk covers sound-absorbing acoustical panels on the walls, providing for a rich amplified sound.
The room's stainless-steel accents, paired with fixtures of glass and polished nickel, also give it an air of sophistication while keeping the Art Deco design found throughout The Smith Center campus. Look closely and you'll notice that even the air returns include a grand piano design.
In a traditional year, the venue offers something for every musical taste, with concerts spanning rock, pop, jazz, cabaret, R&B, Hawaiian and more.
"This is a place where we celebrate not only jazz, but cabaret and other performance styles," Martin says.
Artists' Favorite Venue
Peek at the sound-room door in Myron's Cabaret Jazz, and you'll see it's covered with letters from high-caliber performers.
Each letter declares this venue as the best room they have performed in, worldwide.
"The greatest testament for what Myron created with Cabaret Jazz is to hear every performer rave about it," Snyder says. "They love the place. They love the acoustics, they love the interaction they have with the audience, and they love the feel that comes from being in an intimate venue."
Top performers at Myron's Cabaret Jazz include stage-and-screen stars such as Sutton Foster, Annaleigh Ashford and Megan Hilty; multi-platinum artists like pianist Jim Brickman; and international icons such as multi-Grammy winner Arturo Sandoval. The best Las Vegas based talent also perform here regularly. Clint Holmes, Frankie Moreno, the Lon Bronson All-star band, David Perrico Pop Strings Orchestra, and others call this room their Las Vegas home.
And many have great things to say.
"I've played performing arts centers all over the country and all over the world, and this place is very, very special," says vocalist Jane Monheit, a regular performer at Myron's Cabaret Jazz. "It's magical. The lights, the sound, everything is so top notch, there's nothing else like it."
Actress, singer and comedian Ana Gasteyer also raved after performing a cabaret show there.
"The acoustics in Cabaret Jazz are incredible," the "Saturday Night Live" alumnus says. "And It evokes traditional entertainer Vegas from the '50s and '60s, and the kind of elegant night out, live-music-and-drinks aspect of Vegas."
The venue's size is "perfect," describes pianist Brickman.
"It's like a total experience," he says. "Sitting at round tables, you're promoting this togetherness and not as much sit-in-the-seat, wait-for-something-to-happen. You can have socialization."
Seen Nationwide
PBS helped audiences across America experience Myron's, by filming multiple concerts there for nationwide broadcast.
These included acclaimed performances featuring Broadway, film and television star Alan Cumming, global music sensation Postmodern Jukebox, and most recently R&B singer Ledisi doing her tribute to Nina Simone.
These successes underscore how Myron's Cabaret Jazz elevates the arts in Southern Nevada.
"Our ongoing partnership with PBS shows the nation that Las Vegas embraces the arts in a very special way," Martin says.  
The Road to Reopening
Due to public health and safety guidelines during the pandemic, The Smith Center has cancelled or postponed over 450 performances totaling over $40 million in lost revenue.
As a nonprofit, The Smith Center needs community support now more than ever.
To help open The Smith Center's doors again, click here to support our Road to Reopening Fund.