4/17/2019
Performances and Artists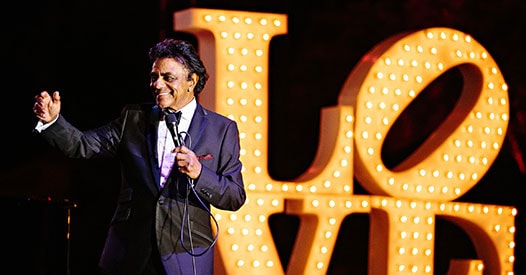 Music Icon Johnny Mathis to Perform Greatest Hits and Classic Standards for Vegas Audiences
When pop legend Johnny Mathis describes his roots as an artist, he doesn't shy from admitting that they're humble.
In fact, he directly ties his musical prowess to the generosity of one woman who saw potential in him as a youth.
"As a kid, my father was my best pal and he suggested I take voice lessons, and we got very lucky to find a wonderful woman who taught me for about 12 years," Mathis recalls.
Throughout that time, she didn't charge him a dime.
"I certainly didn't have money to pay her, because I come from a large family. I have six brothers and sisters," he explains.
Instead, they struck a deal: In exchange for her expert training, Mathis would perform myriad chores, spanning cleaning her house, running errands and even cooking.
"I'd stay (at her house), and when she had 20 minutes in between paying customers, she'd help me vocally," Mathis says. "She was always very adamant, 'you're going to want to sing all your life, whether you can or not.'"
She proved right about Mathis always wanting to croon - and audiences worldwide attest he still can.
After 63 years of recording and performing, the five-time Grammy nominee's voice remains as honeyed as ever.
Still performing constantly after selling millions of records worldwide, Mathis returns to The Smith Center on May 18 for his Voice of Romance Tour, featuring a full suite of amorous melodies showcasing his rich vocals, including his iconic hits such as "Misty" and "Chances Are."
He fully appreciates how popular these tunes remain, he adds.
"I notice and my heart starts to beat," he says of seeing audiences' enthusiastic reactions. "I think it's the greatest thing in the world."
Still Full of Surprises
Often performing a whopping 30 songs per show, Mathis explains he simply performs "the songs I think I sing best."
That's not just his tunes alone, he adds, which is why Southern Nevada audiences can look forward to a diverse set of tunes spanning standards and pop hits, sprinkled among his own classics.
The gifted musicians backing Mathis on tour, including a guitarist, bassist and pianist, can play any song in his wide-ranging repertoire, he adds, allowing him to often shake up his set list.
"It's nice, because I'm not locked into singing the same songs all the time," he says. "We've got to keep the interest level up."
Sometimes he even sings a melody or two in a foreign language, which he picked up during his many years touring the globe.
"It's a little bit of showing off. 'Oh, by the way, I sing this in Spanish or Italian,'" he says with a laugh. "On a lot of occasions, I can come up with something that's a surprise for (audiences)."
Staying Fit for the Stage
Mathis still receives compliments of his ageless voice, which he attributes to another benevolent friend.
Even today at 83, Mathis continues his rigorous exercise regimen five days a week, which he hails as the basis for both his vocal longevity and trim figure.
"Anytime you walk on stage, you've got to look tall rather than fat," he teases. "Exercise has been a good thing for me."
Mathis also remains commits to maintaining his showmanship, delivering the romantic odes that his devoted audiences expect.
"Most people think of me as a kind of a singer of songs that are all about love, and they're not far from wrong," he says.

 
Johnny Mathis performed as a part of the 2018-2019 season.