2/1/2019
Education and Outreach / Community Impact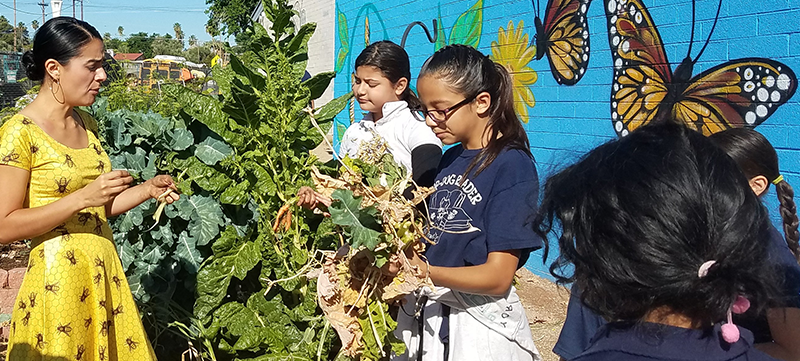 Every Friday morning at Crestwood Elementary School, a surprising scene takes place.
Dozens of third, fourth and fifth graders can be found eagerly raking, hoeing and weeding in gardens that cover a sprawling 20,000 square feet across the school campus.
Throughout the year, teachers take their classes through the gardens for hands-on biology lessons, or to discuss vegetables and nutrition, or even just to enjoy quiet writing time in nature.
"(Because of the gardens), the kids have started taking ownership in their school, because they planted that sunflower, or they know where the hummingbirds nest," says Crestwood teacher Juliana Urtubey.
She has good reason to be proud.
Urtubey raised $80,000 to create this sustainable outdoor classroom with multiple garden beds for her school.
It was largely for this reason Urtubey was selected from several hundred finalists as a winner at the third-annual Heart of Education Awards, which The Smith Center created to honor outstanding teachers across Clark County School District (CCSD).
As a winner, Urtubey received a $5,000 cash prize and a $1,000 donation to her school – which of course she is investing to upgrade the gardens.
"I'm really grateful, because I think it's important for our students to see teachers succeed," Urtubey says of receiving this award. "It's important for all of us to do a little bit more than we have to do, if that helps inspire other teachers or other students to be more involved."
Sprouting a Dream
No one can accuse Urtubey of not being involved.
She was approached five years ago by her principal to launch the garden program, and she jumped at the chance.
"Our school is one of the older schools in the district, and it sounded like a great way to beautify the school," she remembers.
Her hard work has made this vision a reality. Her fundraising efforts have expanded the program to include multiple gardens the students keep thriving, decorated with vibrant artwork by local artists.
"It screams, 'This is a wonderful place for your kid to come learn,' versus, 'This is an old building,'" Urtubey says.
Now students can apply to join the Gnomies club that maintains the garden once a week, a responsibility that teaches students to weed, compost, harvest and even sell vegetables.
Teachers also integrate the gardens into their curricula, including science, health, language arts and more.
"We let the teachers tailor the gardens to their needs," Urtubey says.
Nurturing a Garden – and a Community
Many parents volunteer with the gardens and get involved with the school's monthly farmers market, where families can even take produce home for free if they need a little extra food, Urtubey says.
"It erases the borders between the school and the neighborhood," she says.
Recognizing Valuable Teachers
The Smith Center created the Heart of Education Awards to honor teachers just like Urtubey.
Each year, The Smith Center honors over 700 finalists at a red-carpet event that includes live entertainment, swag bags and prominent keynote speakers.
The top 20 teachers are named winners, with each receiving a $5,000 cash prize and $1,000 donation.
Learn More
To learn more or to nominate a teacher, visit www.TheHeartofEducation.org.