1/16/2020
Broadway Las Vegas / Performances and Artists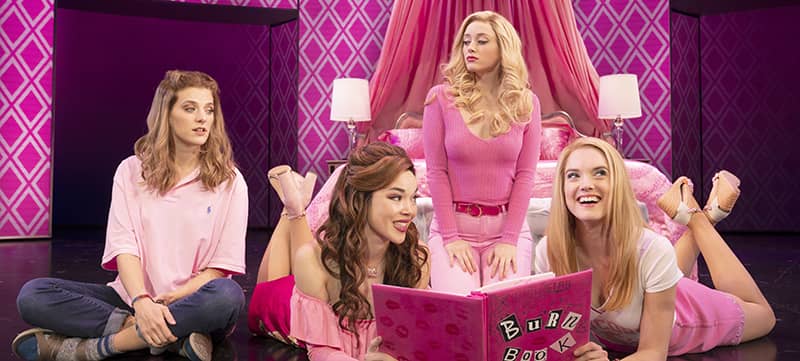 Tina Fey Brings Hit Movie to Theater with 'Mean Girls'
When Tina Fey watched cast members rehearse the Broadway adaptation of her hit film "Mean Girls," she says they broke her brain.
"It's like a bunch of baby Timberlakes. Everyone can do everything," says Fey, a "Saturday Night Live" alumna and creator of hit TV comedies "30 Rock" and "The Unbreakable Kimmy Schmidt." "They sing so loud and they dance so hard."
A cast would need more than a little talent to perform this comedy musical, which offers energizing song-and-dance numbers on top of dialogue loaded with Fey's famous wit.
This combination is likely why the production earned 12 Tony nominations, including Best Musical.
"I cried at the gym," admits Fey — who wrote both the film and the Broadway production — of receiving the news. "I keep saying that, because I'm hoping to get two free months at the gym."
The production even features an original score by Fey's husband, Emmy-winning composer Jeff Richmond, who pens the infectious tunes for all of Fey's TV shows.
Fey happily agreed to the Broadway adaptation of "Mean Girls" — which comes to The Smith Center April 14 to 19 — because she treasures the film as her first screenplay.
Showcasing Tina Fey's Comedy
Fey brushes off her success of writing both the "Mean Girls" film and Broadway show.
"I have only one thing, and I keep writing it," she teases.
But she remains grateful that producers never pushed for other writers to take over.
"I was a first-time screenwriter, and a lot of times they'll say, 'we'll have these two older guys fix it.' But they never took it away from me," she says.
Fans of Fey's fun and satirical voice can expect plenty of it in the "Mean Girls" musical.
While the show expands on the film's messages of bullying, it also retains the movie's lighthearted, subversive humor — even adding more comedic surprises.
"We wanted people who had never seen the movie to still enjoy it," Fey says. "We also wanted it to feel like more than the movie, because it's on cable right now."
Inspiration for a Hit
The "Mean Girls" musical follows the same storyline as Fey's film, with a new transfer student Cady becoming embroiled in the gossip battles between status-hungry, high school girls.
Fey was inspired to pen the story after discovering a New York Times bestselling book on relational aggression: "Queen Bees and Wannabees."
"I think it's hormones," Fey says of why teen drama rages on. "It's hormones and we're all out of our minds."
Yet in the years since the movie's release, she adds, she's observed the "Mean Girls" attitude spreading to even politicians and other high-profile figures.
'The 'Mean Girls' culture has metastasized," Fey says. "That's why everyone needs to see the show and be reminded of your core values."
"Mean Girls" was originally part of the 2019-2020 Broadway Las Vegas series. It was cancelled due to the COVID-19 pandemic.