7/11/2017
Family Programming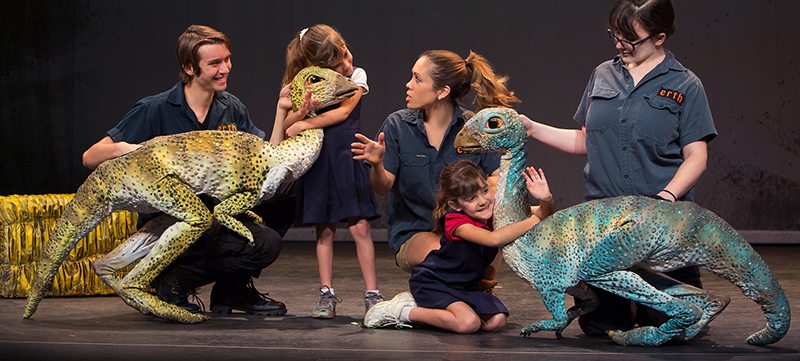 Nicole Neal admits her daughter Audrey is a bigger Smith Center buff than most other 5 year olds.
Audrey loved "The Nutcracker" ballet so much her family took her twice last December. She was entranced by the Las Vegas Philharmonic's holiday concert, and she gifted her father with tickets to "The Little Prince" for his birthday.
For her own, she invited friends to see "Peter Rabbit"…You can guess where.
"She just loves the arts," says Nicole, director of events at the Las Vegas Metro Chamber of Commerce. "During a performance, I look at her and she's physically on the edge of her seat."
It's not that her daughter was born with a passion for theater, Nicole says.
Her family has just introduced Audrey to art forms in many ways, which many other parents can do, too.
"I just think a love for the arts will make Audrey a more well-rounded person," Nicole says.
For other families hoping to achieve the same, these local parents offer a few tips below.
Early Exposure
Establishing the importance of the arts at an early age can spark a lifelong passion.
That's why the Neals started taking Audrey to Smith Center shows when she was just 4, Nicole says.
They specifically chose Family Series productions that typically last 60 minutes, which Nicole finds easier for kids to digest.
"I've actually only taken Audrey to live performances. We've never gone to a movie theater," she says. "I don't know if she'd sit for a movie."
The Smith Center trusts families to know what age their children can enjoy shows, though a minimum 5 years old is generally recommended.
The Neals have also taken Audrey to other arts experiences, including exhibits at the Bellagio and the University of Nevada, Las Vegas.
"She's drawn to it all, but at The Smith Center she just loves everything," Nicole says.
Teaching Good Behavior
Before attending shows, the Neals make sure to discuss appropriate theater behavior with Audrey.
For any shows not targeted for children, they prefer attending matinees that feel less formal, she adds.
"At matinees, there are often more families there," Nicole says.
Making Arts a Learning Opportunity
When taking her daughter to a production, Nicole enjoys teaching Audrey more about the subject on stage.
For instance, they read the book "The Nutcracker," before seeing the ballet, she says.
For Audrey's birthday party at "Peter Rabbit," Nicole gave all of the children Beatrix Potter books, plus seed packets the characters would have eaten.
"This helped them familiarize themselves with the characters," she says.
After the Neals took Audrey to the live production of "Daniel Tiger," they even incorporated the show's educational music into their routines.
"Every sleepy morning, my husband sings the 'Get Dressed' song to help get Audrey motivated and moving," Nicole says.
Make Memories
The Neals agree on the driving reason to take Audrey to the theater: It's a chance to share positive experiences together, Nicole says.
"My favorite memories of growing up were going to see 'The Nutcracker' with my dad," Nicole recalls. "I've told my husband those stories, and he knows these will be important memories we make."