4/30/2018
Education and Outreach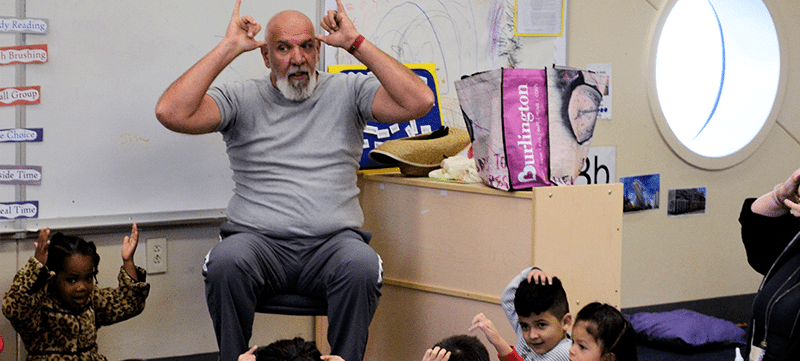 Someone who has enjoyed a career like Jay Nagle's in the performing arts might be inclined to just sit back and reflect on the glory days.
His decades on stage and behind the scenes include starring in national Broadway tours and off-Broadway hits, opening and operating a theater while penning over 30 original musicals, and working as a theater instructor in Chicago for 15 years.
So when he moved to Las Vegas a year ago, it would've been understandable if he wanted to retire and relax.
But Nagle was just getting started.
While new to Southern Nevada, Nagle has already made an impact in supporting the arts across the community, including introducing younger generations to theater as a Smith Center teaching artist.
"It's just about keeping the arts alive," he explains.
Sparking Children's Love for the Arts
Nagle's work as a teaching artist includes serving as a resident artist in local preschool classrooms, through The Smith Center's Southern Nevada Wolf Trap Early Learning Through the Arts program.
Under the program, he trains early childhood educators on how to incorporate theater, movement and music into teaching all curricula.
"It's amazing how each teacher realizes they have these tools in their pockets," he says. "Once you see that glimmer in the kids' eyes, you know they've got it."
Drawing upon his background in drama and puppetry, Nagle trains teachers on using puppets to visually communicate directions to students.
"Some kids in the classroom are still learning English, so it's important to have another avenue for them to go through," Nagle explains.
Bringing Kids to the Stage
Nagle also applies his vast theater experience as a teaching artist with The Smith Center's Disney Musicals in Schools program, which helps local elementary schools create their own musical theater programs.
He witnesses many benefits for both teachers and students as he assists them with the choreography, acting and music for their first musical production.
"You see the kids' self-esteem improve, you see camaraderie between kids who didn't know each other before," Nagle says. "You see how they bond together and find out what teamwork means."
Using Arts to Benefit Seniors and Health Care
Beyond all this, Nagle is also senior programming assistant with the Winchester Cultural Center in Las Vegas – a role he uses to provide engaging arts experiences for Southern Nevada seniors.
Just a few activities he has organized for seniors include an American-Not-So-Idle talent show for individuals over 50, field trips to arts exhibits and Las Vegas Philharmonic rehearsals, and more. 
"There is an abundance of this age group here, and I feel there aren't enough avenues for them to explore," Nagle says. "Since (Winchester) is the only cultural center for the county, I try to do things that are culturally oriented."
He even applies his skills to support local health care, by serving as a standardized patient actor for Touro University.
"We memorize a scenario of what the patient is and their family history, and we're put in a room with an intern and they examine us and figure out what's wrong," he says. "It's great improv."
It's also one more reason he isn't ready to give up a life devoted to the arts.
"When you've been going constantly for so many years, it's hard to slow down," he says.
Learn More
As a nonprofit, The Smith Center's education and outreach programs are made possible by public support. To learn more, click here.