8/9/2018
Performances and Artists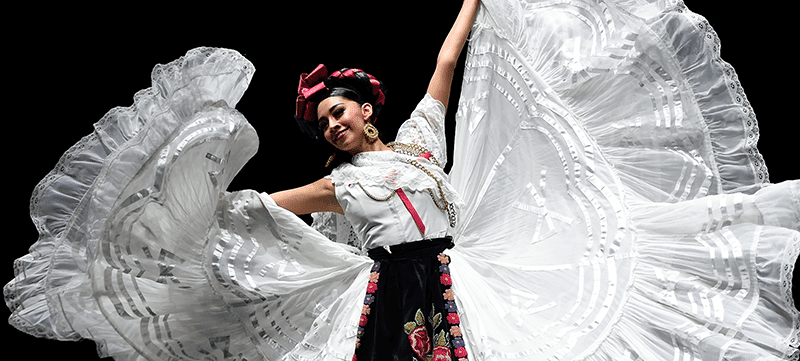 As part of its ongoing mission, The Smith Center focuses on presenting vibrant cultures from all corners of the globe, inviting Southern Nevada audiences to journey the world without leaving Las Vegas.
Building on this goal, The Smith Center just announced its new World Stage Package, featuring three acclaimed, international shows from $89:
Mexican dance company Ballet Folklórico de México on October 15, 2018
Japanese taiko drum ensemble Kodo on January 31, 2019
And Israeli percussion dance troupe Mayumana on April 12, 2019.
Read below how each group promises a show unlike any that has been to The Smith Center before.
Ballet Folklórico
Returning to The Smith Center by strong demand, Ballet Folklórico has performed the vibrant traditional dances from across Mexico's history and culture for over 45 million people worldwide.
Now in an extended tour of the United States, the company delivers a brand-new show featuring several reimagined works being performed in America for the first time.
"Everything has been renewed and reworked," says Salvador Lopez, general director of the company. "Ballet Folklórico is the best face of Mexico. It shows how rich our culture can be."
Known for its vivacious choreography and visually stunning wardrobe, Ballet Folklórico will perform a wide range of dances representing different eras and influences of Mexican culture, spanning pre-Colombian civilizations through the modern era.
These will include a performance of the Ballet Azteca, paying homage to ancient Aztec culture, as well as dances celebrating Mexican traditions like the joyous Fiesta en Tlacotalpan.
This visually rich production showcases lush, large-scale set pieces and over 500 hand-made costumes.
"Everything shows the magic of the Mexican culture," Lopez says.
Kodo One Earth Tour 2019: "Evolution"
One of the most renowned taiko drum ensembles in the world, Kodo returns to The Smith Center as audiences have never seen it before.
Showcasing Japan's leading male and female musicians performing traditional drums weighing up to 600 pounds, this athletic ensemble marks its 35th anniversary with brand-new production "Evolution," a culmination of the group's ever-evolving artistic voyage – featuring all-new pieces, classic repertoire and groundbreaking instruments.
"We've focused more on the artistic and musical components, and that has brought us to a totally different stage of taiko performance," says Koji Miyagi, show tour manager.
The production fuses a wide variety of instruments and performance styles, including all sizes of drums, orchestral instruments like bamboo flutes, as well as vocal and dance performances.
The show's classic works will include Kodo's hallmark piece O-daiko, featuring masterful performances on massive o-daiko drums, reimagined with additional drums like timpani and bass.
The show will also highlight all-new, uplifting pieces like Ayaori, where the artists will perform a new taiko drum that Kodo actually invented: the Kanade barrel drum, designed to produce different tones on either side.
The result is a rhythmic whirlwind that carries the audience into a new dimension of taiko performance.
"The performers and their instruments create various worlds as the program goes on," Miyagi says. "This is a minimalist production that resembles the beauty of Japan."
Mayumana: "Currents"
What would you get if you could mix the electrifying energy and percussion of "Stomp" with the dazzling stagecraft and playfulness of Blue Man Group – plus the pure athleticism of Pilobolus dancers? This is the only way to describe the mesmerizing and immersive universe that percussion dance troupe Mayumana creates on stage.
Featuring gifted performers from around the globe, Mayumana is one of Israel's leading cultural exports, entertaining millions of people around the world.
Its captivating show "Currents" — inspired by the historic battle between Thomas Edison and Nikola Tesla to discover new energy sources — transports audiences on a journey between two troops, each using inventive choreography, music and visual effects to convey different views of light and electricity.
This innovative production combines numerous elements, including 11 skilled performers engaged in constant movement, massive video art projections, and versatile musicians playing custom-made instruments.
These shows were a part of The Smith Center's 2018-2019 season.