12/9/2019
Performances and Artists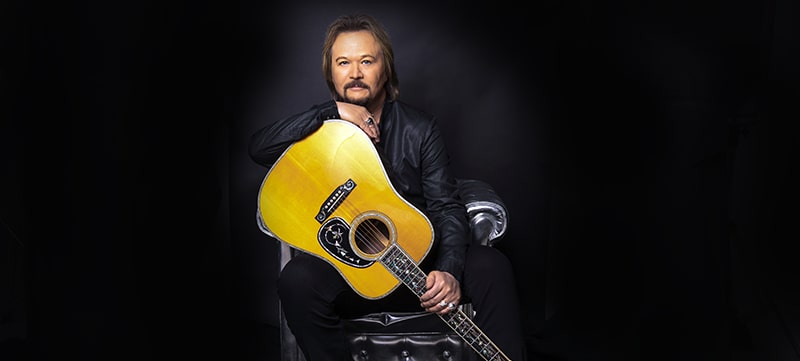 Grammy-Winning Country Star to Perform Intimate, Acoustic Concert
For years, country music megastar Travis Tritt refused to even attempt an acoustic concert.
It didn't matter that during his performances, audiences went wild when he sent his band off stage and played a few tunes alone on acoustic guitar.
"I had numerous booking agents and managers who tried to convince me I needed to do a show of nothing but just me and my guitar," Tritt recalls. "I always thought, 'nobody in their right mind is going to pay good money to see a guy like me sit down and play acoustically and sing for two hours."
As it turns out, he was wrong.
Once Tritt finally agreed to a handful of test acoustic concerts, the shows sold out immediately.
Audiences were eager to experience the two-time Grammy winner stripped down musically, performing solo and sharing stories of his life and music.
While Tritt rarely gets a chance to perform these acoustic shows, he always looks forward to them.
"It doesn't feel like I'm at a show. It feels much more relaxed," he says. "It's like being in my living room, and there's something special about playing music for your friends and family in your living room."
Southern Nevada audiences can experience this unscripted, acoustic concert when Tritt visits The Smith Center on February 25. The show will feature him performing songs across many genres, including his top hits, as well as sharing anecdotes about his musical influences and career.
"This gives me an opportunity to do things a little bit differently than what we do in our band shows," Tritt says. "It's just me and a guitar, no other performers on stage, and when you're in that kind of environment as an artist, you're really vulnerable."
Revealing the Truth on Stage
This intimate concert format serves well for a singer-songwriter like Tritt, who lays his life bare through his music.
All of his melodies stem from a personal place, he says, reflecting his own heartache and life lessons, or those of his close friends.
This includes his very first song, "Spend a Little Time," chronicling a girlfriend who left him for a lifeguard, as well as hit "Here's a Quarter," reflecting the bitter realities of his second divorce in his mid 20s.
He remembers writing the latter song in just 15 minutes.
In the midst of their incendiary battle over the few items they shared, he explains, his wife called to ask if they should rethink the divorce.
This spurred the feelings he penned into song, "you say you'd be happy if you could just come back home. Well, here's a quarter, call someone who cares."
"If I can write a song that's true to personal experiences, and I know I can move myself, I can move other people," Tritt says. "That's always been the guideline I've used to write every song."
An Up-Close-and-Personal Concert
Those who attend Tritt's concert will hear a wide range of tunes.
He will perform many of his greatest hits, such as "T-R-O-U-B-L-E" and "It's a Great Day to Be Alive," and will also explore his many musical influences that span bluegrass, gospel, rock and country.
Audiences might hear him belt a blend of the Eagles, Merle Haggard, Waylon Jennings, Johnny Cash and more.
"All of that is part of my upbringing," Tritt says. "This gives me an opportunity to tell some stories about those influences and how I got into the music, and where the music really comes from."
Travis Tritt performed as a part of the 2019-2020 season.