5/18/2015
Community Impact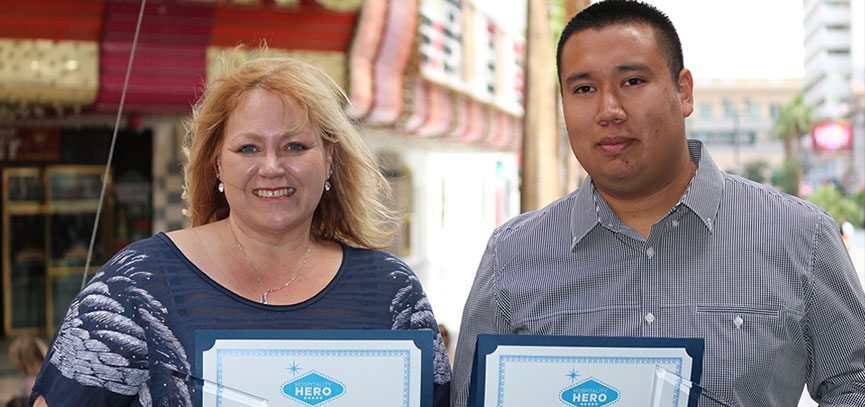 Thursday morning, May 7, held a big surprise for Patti Cameron and Jaime Llamas, two of The Smith Center's valued staffers. Both were honored as "Hospitality Heroes" during a press conference that celebrated National Travel and Tourism Week 2015, which was presented by the Las Vegas Convention and Visitors Authority (LVCVA). The gathering took place at an iconic Las Vegas locale – the Third Street Stage beneath the Fremont Street Experience canopy.
National Travel and Tourism Week marks the perfect time to recognize and thank front-line hospitality employees. The Smith Center is an essential member of Las Vegas' multibillion-dollar travel and tourism economy, and hospitality is a vital aspect of its everyday culture. Staffers like Cameron, who is the center's community engagement representative and volunteers supervisor, and Llamas, who fills many roles in our food and beverage program, are sterling examples of individuals who continually provide amazing customer service, whether internally to fellow employees or externally to patrons and guests.
Mayor Carolyn G. Goodman oversaw the proceedings, discussing how important tourism is to Las Vegas. The awards were given out by the one-and-only Oscar B. Goodman, former Las Vegas mayor and current LVCVA host committee representative. Flanked by a pair of iconic showgirls replete with towering feather headdresses, Goodman, trademark martini glass in hand, handed out plaques – and comedic zingers – to a handful of service employees from key Las Vegas businesses and organizations including the Golden Nugget Hotel & Casino and theCulinary Academy of Las Vegas.
Cameron was awarded for her role in fostering positive workplace morale at The Smith Center. Originally a volunteer usher since the institution opened in March 2012, she was hired on in early 2014 for her infectious and joyful attitude. In her position, Cameron is busy daily as she works across departments, which includes overseeing a robust volunteer program. It is her guidance and leadership of volunteers that encourages the welcoming atmosphere and hospitality shown by our volunteers to patrons and visitors alike. She is highly regarded by her colleagues for her cheerful personality and can-do attitude.
For Llamas' part, he was recognized for his significant contributions to The Smith Center's food and beverage offerings. After completing Culinary Academy internships at The Springs Preserve and The Smith Center, he joinedCulinary Arts Catering, the organization that provides catering service to Reynolds Hall and Boman Pavilion. Known for his approachable charisma and team focus, Llamas has worked as a porter, bar back, bar tender and lead server. His abilities have led him to be able to oversee fellow employees.
In addition, it was also announced during the press conference that the Society of American Travel Writers (SATW)will hold its 2015 convention in downtown Las Vegas this coming October. A number of dignitaries spoke to welcome the convention to town. They included Jeff Victor of the Fremont Street Experience; Mark Rowland, CEO ofDowntown Project Ventures; Jonathan Ullman, executive director of the Mob Museum; Marc Abelman of 18B Las Vegas Art District; Alex Epstein Gudai of El Cortez Hotel & Casino and Seth Schoor, CEO of the Downtown Grand Las Vegas.
Cameron and Llamas are both consummate "Hospitality Heroes," and everyone at The Smith Center joins in congratulating them on their awards!