9/11/2017
Community Impact / Broadway Las Vegas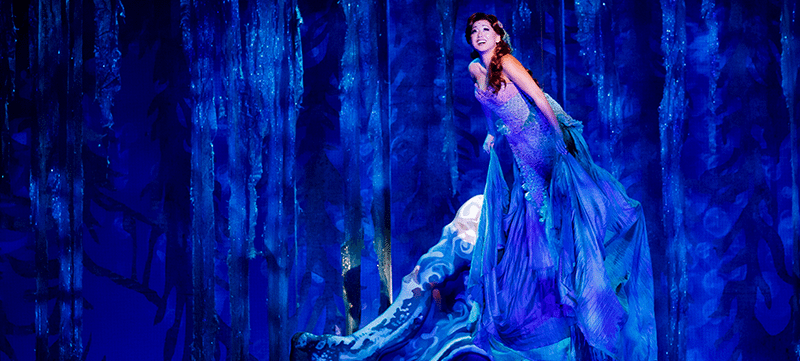 When audiences first experienced "The Little Mermaid" on Broadway, they watched singing and frolicking sea creatures "swim" by rolling across the stage on wheeled Heelys shoes.
This didn't impress Glenn Casale.
That's why, when Casale was tapped to reimagine the show as director for its national tour, he felt determined to do better.
"He called me and said, 'Do you think there's a better way of making mermaids swim on stage?'" recalls Paul Rubin, the tour's flight choreographer. "I said, 'Yes - we can actually fly them.'"
Rubin, an alumnus of the University of Nevada, Las Vegas (UNLV), didn't quite realize the undertaking he was signing up for.
"It took time," he says of making sea life maneuver through the air. "It actually helps the storyline and adds character to the people who fly."
Dolphins, the Mermaid's Cousin
When Rubin first began determining how the show's characters would fly, he quickly found his inspiration: Dolphins.
"In my mentality, a mermaid is closely related to the dolphin, because they have the same kind of body structure," he explains.
So launched Rubin's intensive dolphin research.
He studied their physiology, behavior and movement patterns — and even swam with dolphins to analyze which of their mannerisms to add into the choreography.
"That helped me in giving more character to the (under-the-sea) roles," he says. "When Ariel flies, she's not flying. She's really swimming."
Helping Performers Take Flight
Of course actors face a challenge with singing and acting while also flying through the air.
Rubin has taken special care with training performers to do so much at once.
"I worked with them first on the (flight) choreography before we put any acting or singing into the rehearsal," he explains. "After we had the foundation of the flying, we added the additional acting and singing into it, going layer by layer."
The show's aerial technology offers great versatility, he adds. The performers, secured in harnesses, connect to track systems that can move them up and down, and back and forth.
"With the two wires attached to their hips, we can rotate the performers and face them in the direction to fly or swim," Rubin notes. "We take that element of their control away, so they can focus on their acting."
Returning to Vegas
Studying theater at UNLV — where tour Director Casale also used to teach — definitely groomed Rubin for his success today, he says.
"It gave me the background to know what I wanted to do and how I wanted to do it," he says.
Rubin feels elated that a show so dear to his heart will perform in Las Vegas for his family to see, he adds.
"My mom doesn't get to see many shows I work on, since a lot of them are in New York or international," he says.
He hopes Las Vegas residents feel transported under the sea when they watch his aerial effects come alive, he adds.
"I want them to watch the show and think, 'look how seamless this scene is, when they sing and swim,'" he says.
"The Little Mermaid" was a part of the 2017-2018 Broadway Las Vegas series.
Photo Credit: Diana HueyII in Disney's THE LITTLE MERMAID. Photo by Mark & Tracy Photography