4/16/2018
Performances and Artists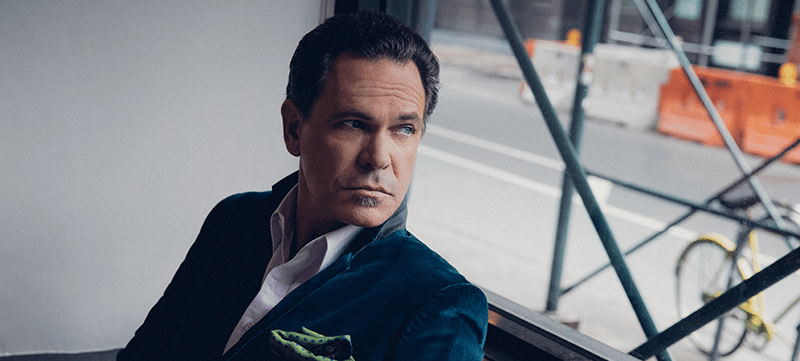 Acclaimed Jazz Vocalist Brings Vocalese and Scatting to Vegas
Earning widespread acclaim for his performances worldwide, Grammy winner Kurt Elling has earned his status as one of today's leading jazz vocalists. Audiences might be shocked to learn that in spite of his accolades, Elling is fully self-taught, hailing from an unlikely background of performing as a boy with his church-musician father and later studying at divinity school.
With Elling performing his trademark vocalese and scatting at Myron's Cabaret Jazz on May 4 and 5, we recently spoke with him about his artistic journey.
What first sparked your interest in becoming a jazz performer?
When I was in college, some cats down the hall were playing Dexter Gordon, Herbie Hancock, Dave Brubeck, people like that. It was just at the time that I was beginning to actively listen to things.
It happened that I was able to start sitting in with small groups right as I started listening intently. Cats were kind, and audiences were always excited by my caterwauling.
How have you honed your craft without any formal training?
I did mostly choral work from grade through graduate school. I never went to music school, and never took many individual lessons for voice. Mostly, I have elaborated and extrapolated from choral work, and learned from recordings, on the stand and at the occasional Q&A with other musicians.
Not many artists have pursued graduate studies at divinity school! Has this influenced your career at all?
I was not there to become a priest but an academic — a professor. Graduate school sharpened my mind and my analytic and writing skills. It gave me the tools to root around in questions of meaning, and to read thick books. It also gave me some big words to throw around.
You're known best for vocalese, scatting and ranting. What are the differences between these?
Vocalese was invented by Eddie Jefferson, and is the writing and performing of a lyric that has been tailored to fit the lines of an instrumental solo from someone else's record.
Scatting, properly defined, is the art of composing a solo in the here-and-now, using whatever nonsense syllables the singer requires to do so. "Ranting" is an informal term a friend of mine came up with for improvised melodies coupled with improvised lyrics.
What kind of experience do you give your audiences?
All of us in the band are of a mind to give the highest quality musical experience we can, to play and so to communicate to the best of our abilities. I want people to be surprised, to be moved, to laugh, to remember something important they may have forgotten. I want them to have what they need.
Kurt Elling performed in Myron's Cabaret Jazz in May of 2018.