11/10/2017
Family Programming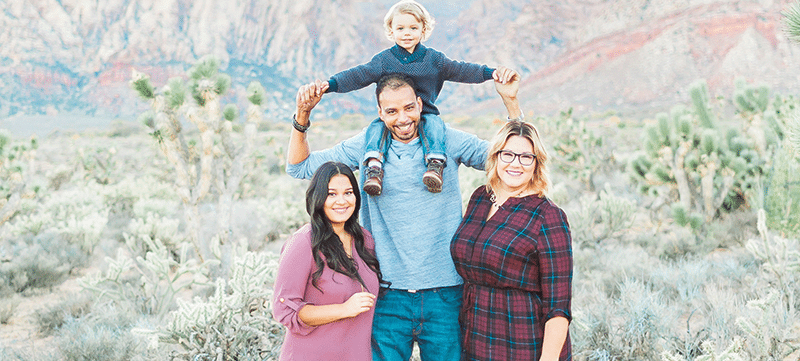 Tiffany and Oliver Mitchell still remember their frustration a year ago when they searched for online tips to address their toddler's road-trip meltdowns.
"We only found all of these basic, cookie-cutter answers," Tiffany remembers. "I had to dig a little deeper to find a parenting blog that felt like they were speaking our language."
This got the Las Vegas parents, who have a 2-year-old and an 18-year-old, thinking about other information parents in their city might be seeking.
They realized there wasn't a local resource offering experience-based parentings tips, as well as information on child-friendly activities, like family shows at The Smith Center.
So, they decided to make their own. Throwing themselves into the project, the couple just successfully launched Las Vegas Baby Magazine.
Serving as a one-stop magazine for families with children ages newborn to 6 years old, the online outlet  offers content spanning common parenting issues, features of Las Vegas families, product reviews and highlights of Southern Nevada events and resources for families to enjoy.
"We wanted the focus to be local," Oliver emphasizes. "We want this to be a tool not just for parents, but for families."
Introducing Kids to the Arts
The Mitchells can offer personal insight into many parenting topics, especially the benefits of introducing young children to the performing arts.
Since the couple's daughter Faith first took up the viola in sixth grade, Tiffany says Faith evolved not only as a musician but also in her confidence and focus.
"Exposing children to the arts is so valuable," Tiffany says. "It opens up a whole different world for them to be able to express themselves and see how others are expressing themselves."
With Faith now majoring in music at the University of Nevada, Las Vegas, the Mitchells have also made a point to take her to a wide variety of shows at The Smith Center, from Broadway shows to the Piano Guys.
Following this tradition, they also just took their 2-year-old to his first family show at The Smith Center in September.
"He enjoyed it," Oliver says, adding that they're looking forward to more upcoming family shows, like "How I Became a Pirate" on February 7.
Support for the Whole Village
The Mitchells promise their magazine will offer valuable advice for all family members who help with child raising, including aunts and uncles and grandparents.
They always welcome ideas for content, Tiffany adds.
"This has really become a passion project for us," she says. "It will only grow."