9/28/2018
Education and Outreach / Inside the Theater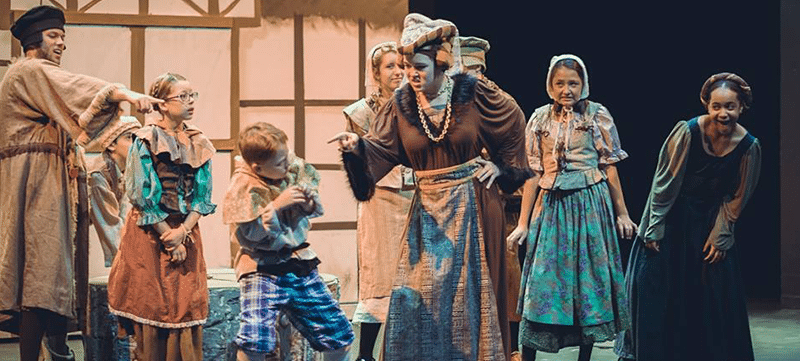 When Kearsten Kuroishi reflects on her life's successes, she traces many of them back to participating as a child in the Rainbow Company Youth Theatre.
"I attribute all of the good I give to the world to my arts education," says Kuroishi, now education director with Rainbow Company. "That all came from the best educators and a strong program."
Many other Southern Nevadans tout the same message of receiving a strong start in life from Rainbow Company.
That's actually the overall goal of the organization, a city program over 40 years old that operates under the Las Vegas Office of Cultural Affairs, Kuroishi says.
"Our students are learning skills that will contribute to whatever they want to do in life, like teamwork, confidence, and empathy," she says. "We raise strong artists, but better than that, we raise strong people."
No One Is a Star (And That's a Good Thing)
Rainbow Company staff gives fair warning to parents of newcomer students: Their children might not perform in the company's productions for their first couple of years.
"There are no stars in Rainbow Company," Kuroishi says.
That's the running theme of the organization's student ensemble, its core program comprised of roughly 40 youths ages 10 to 18.
Kids audition for the ensemble each year, with many participating year after year until they graduate out of the program. Rainbow Company puts on several productions a year will all-student casts, and ensemble members must audition for each show.
If they don't land a part, they take on a host of responsibilities as part of the tech crew, where they learn theater skills spanning set design, costuming, props, sound, ushering and overall theater business.
"They learn to appreciate every role," Kuroishi says. "Some kids audition and then find out they're in love with stage management, and it takes their life in a direction they hadn't previously imagined."
A Wide Range of Lessons
Beyond immersing kids in real theater productions, Rainbow Company also provides special training in theater skills the students might not receive elsewhere.
Each ensemble member is required to take weekly classes the Rainbow Company provides on specialized theater skills, including stage management, technical skills and even wig preparation.
"We often bring in guest artists to teach," Kuroishi adds. "Our physical acting class was actually taught by a Russian clown."
By learning these many skills and roles, the students also soak up valuable life lessons, Kuroishi adds, with staff mentoring along the way.
"When you learn to act, you learn to be empathetic. When you work on a crew, you learn discipline," she says. "When you work collaboratively in theater, you learn teamwork."
Introducing the Arts to the Community
Rainbow Company also works to introduce theater throughout the community.
This includes offering $8 tickets to its shows, encouraging families to bring their young ones to an accessible theater experience.
Plus, its touring theater production — its only show with an all-adult cast — presents in-school performances about Nevada history to approximately 15,000 students a year.
"It's the coolest thing to go in and do something cross-curricular," Kuroishi says. "Kids will gasp and become connected (to topics) in a way they weren't before when they read their textbooks."
With graduates of Rainbow Company now bringing their own children to audition, Kuroishi anticipates exciting growth for the company, including building partnerships with other arts organizations in town.
"The mission statement for the City of Las Vegas is building community to make life better, and I see that in such a strong way in Rainbow Company's impact," she says.
To learn more about Rainbow Company Youth Theatre, visit: www.rainbowcompany.org.