5/18/2020
Education and Outreach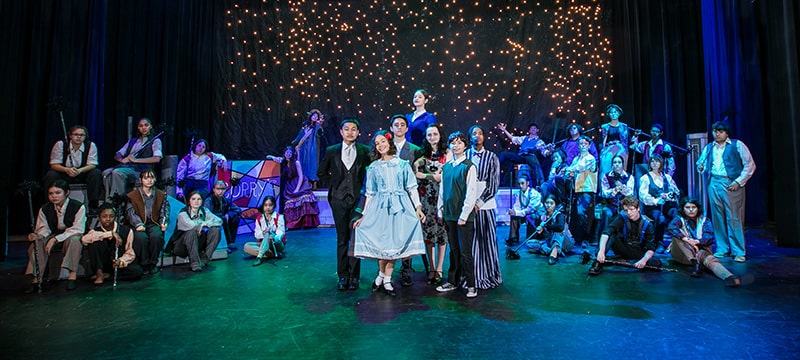 Syer Smith can attest that musical theater requires thinking on your feet.
A student with Del Sol Academy of the Arts, he remembers working as assistant director for a school production – and learning that a performer had to leave right before a performance.
"I had to play his part," Smith recalls. "I memorized his lines pretty quickly since I had watched the scenes so many times. My family and friends who were in the audience had no idea I would be in it. They were pretty surprised."
Many Southern Nevada high school theater students like Smith invest tremendous effort to help their schools present top productions.
Usually, The Smith Center honors these hardworking students and showcases their talents on stage with its annual Nevada High School Musical Theater Awards – with two solo performers chosen to compete on Broadway in the National High School Musical Theater Awards, the Jimmy Awards.
But The Smith Center cancelled its eighth-annual event this year in accordance with public health and safety guidelines. The national Jimmy Awards were cancelled, as well.
That doesn't dim the spotlight on these students, however.
Building on the numerous theater opportunities they have experienced in Southern Nevada, many students who would have participated in this event still have their sights set on Broadway and beyond.
"(I tell my students) 'this is not the end of the world,''' says Spring Valley High School theater teacher Anthony Coffield. "You will go and do amazing things outside of high school to continue your love for this art."
A Future Behind the Scenes
Spring Valley student Zoe McCracken had been nominated for Best Stage Management at this year's Nevada High School Musical Theater Awards.
Even without the award, "theater has helped me through some of the hardest days in my life, and is also the first place I want to go on a good day," McCracken says.
She has been involved with over 10 school and community theater productions in the past 10 years. She has worked at Super Summer Theater and even shadowed at Cirque du Soleil.
Pivotal experiences include working as stage manager during a production about eating disorders, which nurtured her empathy. Overseeing 40 students backstage in another show taught her leadership, while unexpected challenges at a state theater conference helped her learn from failure.
For all these reasons, McCracken now proceeds with attending the University of Southern California to major in technical direction. She aspires to work as a master carpenter in a Broadway national tour.
"I'm grateful to be in a position where I can work to pursue a degree and career in live theater," she says. "From the sense of pride you get with seeing your own show, to the people involved, there's so much to be excited about."
Bound for Broadway
Acting since kindergarten, Grace Parker from Faith Lutheran High School would have performed at the Nevada High School Musical Theater Awards for a chance to compete at the national Jimmy Awards.
Even without this opportunity, all of her happiness stems from her performing experiences, which include school productions, Broadway Bound musical theater company and Musical Theatre Competitions of America.
"Theater and acting gives me the human connection I desire, both on and off stage," she says.
This fall, Parker will attend the University of Cincinnati College-Conservatory of Music to pursue a Bachelor of Fine Arts in musical theater. Her long-term goals include performing on Broadway.
"Performing shapes my heart and my mind and encourages me to be a better person every single day," she says.
Top High School Productions
This past school year, many high schools went to tremendous lengths putting on elaborate productions that would have received recognition at the Nevada High School Musical Theater Awards.
Coffield encourages his students to do everything during a production — spanning costumes, lighting, audio, set design and more — which made Spring Valley High School's "Mary Poppins" production a significant event.
With 75 students involved, the school presented polished performances of the iconic production.
"The students spent three months to complete everything they could and learn everything they didn't know," he says. "I really feel as if it was one of our best productions yet."
The entire cast and crew of "Freaky Friday" at Del Sol High School rallied together when the technical director experienced a family emergency and was unable to help design and build the set.
"It was really rewarding to watch the whole department, performers included, pull together the make the show look as good as it sounded," says theater teacher Kayla Wagner.
The dedication of the cast and crew for Faith Lutheran High School's production of "Elf" taught students a valuable lesson in collaboration, says theater teacher Erik Ball.
He considers this one of the best benefits theater can provide for students.
"It's what you take away from the experience and who you become as a result that really matters," Ball says.
As a nonprofit, The Smith Center hosted its first Nevada High School Musical Theater Awards in 2013 to showcase solo performances by top high school theater students across Southern Nevada.
Thanks to donor support, The Smith Center provides the top male and female performers with a multi-day trip to New York City, to work with Broadway professionals and compete for scholarships at the Jimmy Awards.
In 2019, the nonprofit center significantly expanded its awards program to feature ensemble performances from high school productions and recognize the top school productions in awards categories such as choreography, direction, costume design and more. To learn more, click here.