11/30/2018
Performances and Artists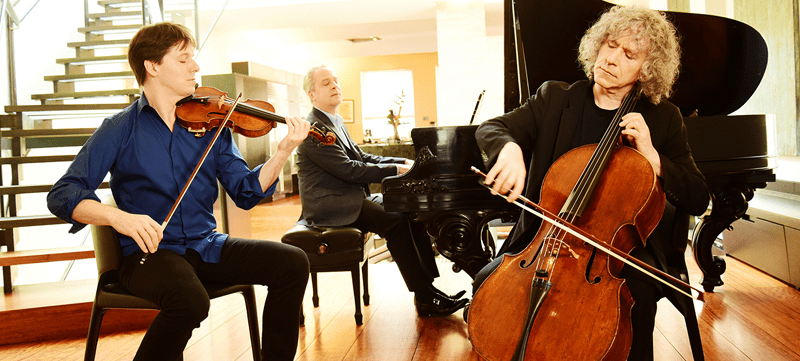 Violin Prodigy Joshua Bell to Perform Classical Epics with Bell-Isserlis-Denk Trio
Before Grammy-winning violinist Joshua Bell took the stage at The Smith Center's star-studded opening night event in March 2012 — where he was featured among music legends like Carole King, Willie Nelson and Arturo Sandoval — he admitted the venue took his breath away.
"I've always been a fan of Las Vegas, I come a lot, but this is what we're missing," Bell said before becoming one of the first artists to perform in Reynolds Hall. "I hope they draw the audience. If you build it, they will come."
In the ensuing years, Bell has seen his own prediction come to pass.
Each time the acclaimed virtuoso returns to perform at The Smith Center, including his popular performance with the prestigious chamber orchestra the Academy of St. Martin in The Fields, Bell witnesses firsthand how The Smith Center has succeeded in nurturing a steadfast audience of arts lovers in Southern Nevada.
"I think it's a beautiful concert hall," Bell said. "They pulled out all the stops."
Now building on his long history with The Smith Center, Bell returns to The Smith Center on May 6 for a highly anticipated performance with his celebrated Bell-Isserlis-Denk Trio.
Showcasing Bell alongside cellist Steven Isserlis and classical masters pianist Jeremy Denk, the performance will feature a stirring repertoire of beloved pieces by Felix Mendelssohn, Dmitri Shostakovich, Sergei Rachmaninoff and Maurice Ravel.
The trio's performances together are memorable not only because the artists are longtime collaborators, Bell said, but also because they are close friends whose performances are "like getting family together."
Three Classical Titans
Audiences who experience the Bell-Isserlis-Denk Trio will witness three of modern day's greatest classical musicians.
Bell, whose career spans 30 years as a soloist, chamber musician, recording artist, conductor and director, is one of the most acclaimed violinists of his era.
His career includes performing with every major orchestra in the world on six continents, serving as the featured soloist in acclaimed film soundtracks like "The Red Violin" and "Ladies in Lavender," and collaborating with major performers like Chick Corea, Regina Spektor, Josh Groban and Sting.
One of America's foremost solo pianists, Denk has earned the MacArthur "Genius" Fellowship and the Avery Fisher Prize, and remains a frequent performer at Carnegie Hall.
He often performs across the globe, including with groups such as the BBC Symphony Orchestra, the New York Philharmonic, the Chicago Symphony, the Helsinki Philharmonic and many more.
Celebrated worldwide for his profound musicianship and technical mastery, Isserlis enjoys a distinguished career as a soloist, chamber musician, educator, author and broadcaster.
As a soloist, he appears regularly with the world's leading orchestras and conductors, including the Berlin Philharmonic, London Philharmonic and Zurich Tonhalle orchestras.
Three Collaborators and Friends
The three artists have known each other for many years, including Bell and Denk attending the University of Indiana together.
During the musicians' many years of performing and recording together, Bell noted, they have grown together as artists, through "listening, playing, arguing."
"That's what's great about chamber music, is discussions that go on with music," Bell said. "As an artist, as a musician, you're always learning."
The Bell-Isserlis-Denk Trio performed as part of the 2018-2019 season.