11/15/2016
Supporting the Arts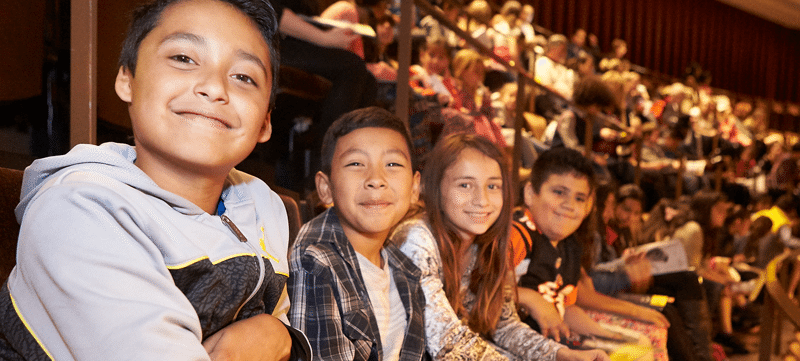 When Nicole Rogers accompanied her son's elementary school class to a free student matinee at The Smith Center in October, she knew it would impact her child for years to come.
"I love the opportunity to broaden my children's horizons," Rogers said after the show. "I see a general decline in kids participating in the arts, and I think exposure in a form like this, where it's fun and exciting for them, gets them interested in the arts again."
The holiday season marks an important time for giving thanks, and The Smith Center has many reasons to thank its many donors.
As a nonprofit, The Smith Center relies on public support to cover 25 percent of our overall operations. However, some donors might not be aware of the many ways their contributions have played a pivotal role in our programs and services, enriching many people's cultural lives.
Arts Education
With donor support, The Smith Center has provided a variety of Education and Outreach programs promoting the arts among younger generations. These include matinee shows and in-school performances free of charge for local students and teachers, providing exposure to the performing arts that many students wouldn't otherwise have.
During the 2015-2016 fiscal year, donors helped The Smith Center provide:
Free matinee shows for 87,578 local students and teachers
In-school performances for 33,835 local students and teachers
Artist residencies in 75 local preschool classrooms, promoting arts-based teaching strategies
Diversity of Shows
Donor contributions helped The Smith Center present nearly 400 different world-class shows over the last fiscal year. These showcased a broad range of music, dance, Broadway and speaker events, including "Riverdance," the Alvin Ailey American Dance Theater, Kristin Chenoweth, Brian McKnight, "Cabaret," Yanni and more.
This lineup reflects The Smith Center's focus on providing a diversity of shows, which local audiences could not otherwise access in one location.
Expanding Our Role
With the help of generous donations, The Smith Center has also expanded its role to developing new works.
This kicked off with a 2014 partnership with Teller and the American Repertory Theater on the successful adaptation of "The Tempest," which went on to run in Chicago and earned several prestigious Jeff Awards.
On the heels of this success, The Smith Center launched the world premiere of "Idaho! The Comedy Musical" in 2016, garnering rave reviews from critics and audiences. With this encouraging response, The Smith Center is exploring future opportunities to develop new works.
An Outstanding Team
A wide range of skillsets are needed to operate The Smith Center. Donations have allowed The Smith Center to assemble an exceptional team of 126 full-time employees across 21 departments, including Programming, Development, Engineering, Patron Services, Marketing, IT, Security and more.
Maintaining Our Facility
Donations have further supported ongoing maintenance of The Smith Center facility, which many families, companies and organizations throughout the community use for important events.
Over the past fiscal year, The Smith Center provided space for 102 special events, including weddings, meetings, fundraisers and more, highlighting our role as the community's living room.
More to Come
Donors continue to make great things possible at The Smith Center, with contributions of all sizes making an impact.
From all of our team members, we offer deep thanks for your continuing help in supporting The Smith Center as the heart of the arts in our community.
For more information on how to support The Smith Center, click here.