3/2/2020
Performances and Artists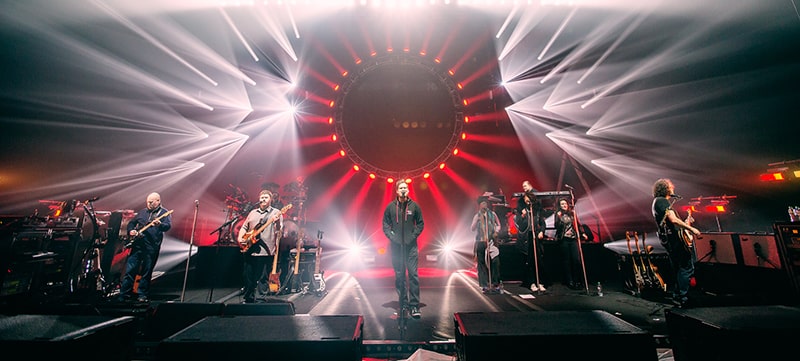 The Smith Center Presents Electrifying Concerts Across Many Rock Styles
No one at The Smith Center will tell you to keep the volume down.
This season, the center cranks its amplifiers to 11 with a lineup of music legends spanning the full spectrum of rock and pop.
Whether your taste runs with classic rock anthems, Golden Oldies vibes, psychedelic stylings, or rock hits reimagined with a full symphony orchestra, the center has a show for you.
Read below to confirm what kind of rocker you are — and which show offers your perfect jam.
This iconic band carved its place in progressive rock history with megahits such as Dust in the Wind, Carry On Wayward Son and Point of Know Return.
The group continues its legacy touring the world with original members such as drummer Phil Ehart and guitarist Richard Williams. These artists' glory days are not yet behind them, as they just recorded the band's newest album, slated for a 2020 release.
After selling out its last visit to The Smith Center, Kansas returns to perform its epic album "Point of Know Return," in celebration of the sextuple-platinum album's 40th anniversary.
The concert will also showcase many more fan favorites.
Golden Oldies fans, rejoice.
After dominating the airwaves throughout the '60s, The Turtles continue to perform the band's top hits such as "Happy Together" and "It Ain't Me Babe," while still led by founding member Mark Volman.
Inviting audiences to relive the most popular hits of the '60s and '70s, the band has toured for the past 10 years with leading groups of this golden musical era.
The Turtles will perform with an all-star lineup at The Smith Center, including:
Chuck Negron, formerly of Three Dog Night, performing hits such as Joy To The World, Mama Told Me Not To Come, Shambalaand One
The Association, playing its chart-topping tunes including Cherish, Windy, Never My Love and Along Comes Mary
Mark Lindsay, former lead singer of Paul Revere & The Raiders, belting favorite melodies by the Raiders as well as his own solo gems, such as Kicks, Hungry and Arizona.
The Vogues, playing its many Top 10 hits, including Five O'Clock World, You're The One, My Special Angel and Turn Around Look At Me
The Cowsills, performing its best-known songs such as The Rain, The Park and Other Things, Hair and Love American Style
No doubt, audiences will feel happy together hearing these groups perform their top hits.
Whether you worship classic rock or classical music, this show will thrill you.
Beloved Vegas singer Brody Dolyniuk never fails to pack seats with his Symphonic Rockshow series, featuring Vegas' top string players performing reimagined versions of iconic rock hits.
This concert will showcase electrifying hits by Led Zeppelin, Pink Floyd, Queen and more.
Dolyniuk delivers all of this in a concert rife with visual storytelling, showcasing video projections, live videos and lasers.
Singer-songwriter-guitarist Boz Scaggs maintains a global following for his hits like Lowdown, Jojo and Lido Shuffle – and he returns to The Smith Center to perform tunes from his new, Grammy-nominated album.
These melodies dive deep into the blues.
Backed by a swinging band, Scaggs will perform covers of blues classics by icons such as Bobby "Blue" Bland and Jimmy Reed, as well as his own blues originals.
Longtime Scaggs fans can also look forward to him playing his many greatest hits.
For audiences who dream of resurrecting Pink Floyd, this show offers the closest thing.
Hailed as one of the world's leading Pink Floyd tribute bands, The Australian Pink Floyd Show delivers both the complex musicianship and immersive visuals that made the original band unforgettable.
Southern Nevadans can expect large-scale projections and dazzling effects as the band performs Pink Floyd classics such as Another Brick in the Wall, Hey You and Money.
It's for all of these reasons the Aussie band has sold over 4 million tickets worldwide, touring across 35 countries.
To remove any doubt of its legitimacy, the group even performed at the 50th birthday party for original Pink Floyd singer David Gilmour.