1/25/2019
Performances and Artists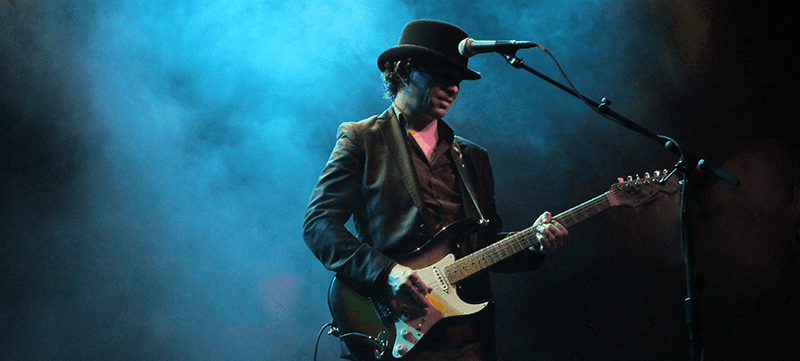 Michael Grimm to Perform Concert Series at Myron's Cabaret Jazz
When singer-songwriter Michael Grimm seized the top place in season five of NBC show "America's Got Talent," the American-roots artist suddenly experienced a hurricane of fame – including touring with Stevie Nicks, recording with country megastar Travis Tritt and being featured on the "Today" show. 
"I got to work with so many people I've always wanted to work with, it was a dream come true," he says.
That said, there is nowhere Grimm would rather be now than living and performing in Las Vegas.
"When everything settled back down, I was happy to be doing my own thing back in Vegas," says Grimm, a Louisiana native who has lived in Vegas since 2001. "I've always made a decent living out here, I get to sing and do what I want to do, and I don't see myself ever leaving." 
The acclaimed artist is equally thrilled to share his bluesy, Southern-roots stylings in a series of special concerts at Myron's Cabaret Jazz throughout the winter and spring.
Each show will feature Grimm and his favorite accompanying artists performing a different musical theme, spanning a tribute to Otis Redding, Southern rock 'n' roll, New Orleans/Mardi Gras tunes, classic country staples and more.
"These are all of the artists and genres that inspired me the most and that I grew up around," Grimm says. "I'll take you on a bit of a trip through my life, through the music and people I love to listen to."
A Swift Rise to Fame
Grimm knows well that his musical stylings are unique, birthed from his childhood on the border of Louisiana and Mississippi.
"The music of that area is very different than what you hear around the rest of the U.S.," Grimm says. "It's such an enclosed culture, the style that comes out of Louisiana is its own thing."
He initially strived to share his music with a record label, but having little luck garnering labels' interest, went for the next option: Trying one of the reality music shows suddenly taking the country by storm.
He auditioned for "America's Got Talent" with low expectations, and promptly forgot about it.
That is, until he received a call a year later.
"They called me and said, 'Can you be in Hollywood tomorrow?'" he remembers.
The rest was a whirlwind of lengthy taping sessions, emotional on-camera interviews and dazzling performances before a national television audience.
"It's a very big and powerful experience," Grimm says. "Just being on the first episode, it made me famous overnight."
At Home in Vegas
Winning the show was a shocking victory, but Grimm wasn't enamored with the lifestyle that followed.
"All those red-carpet events, I realized I didn't like those things," he says. "Your publicists and agents are booking you non-stop, and you have to be almost a robot."
He prefers his current status, living and performing in Las Vegas, on his own schedule.
Not only are there myriad performance opportunities here, he says, but the audiences are unlike those anywhere else.
"Las Vegas is more of a melting pot than any other city," he says. "There are people from all over America and all over the world, and that's the kind of audiences that I get, this balloon of cultures who come out and see me, and I absolutely love that."
Each of his upcoming concerts at Myron's Cabaret Jazz will be an intimate celebration of different genres he loves, he says, during which he will also share stories and insights from his life and career.
"I'll be playing with musicians I've worked with as long as I've been in Las Vegas. We're like a family," he says. "We're going to have a really good time."
SEE THE SHOWS
Michael Grimm performs several concerts throughout the winter and spring at Myron's Cabaret Jazz – for tickets, click here.
Photo Credit: Copyright Tinane Entertainment