1/25/2021
Discovering The Smith Center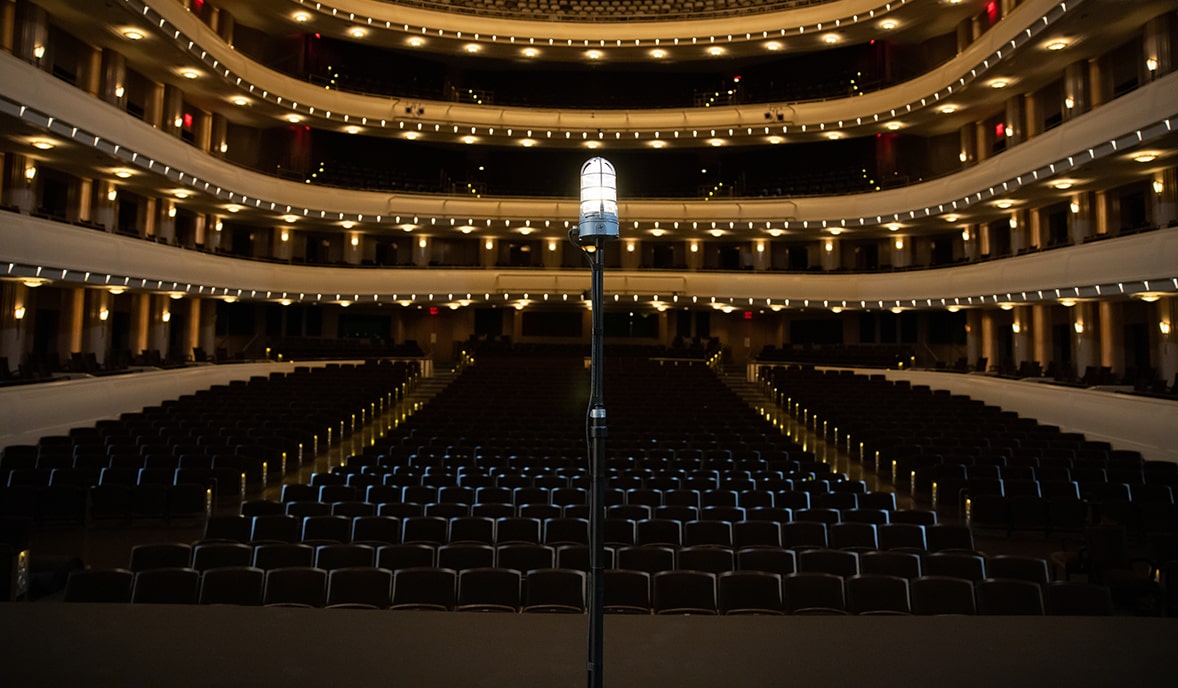 Longtime Smith Center subscriber Mark Haley and his wife Marianne won't ever forget being at the last Broadway show held at The Smith Center before its stages went dark due to the pandemic.
Haley says he and his wife debated whether to go and see the Saturday night performance of Once On This Island on March 14, but in the end decided to go and just be careful.
"Reynolds Hall was only half-full that night, which was so unusual," says Haley, adding that it was a clear sign that people were starting to take the Covid virus seriously.
"Everyone was still enthusiastic about the show and its performers, but you could sense an undertone of bewilderment – like is this really going to happen?," says Haley.
An Unexpected and Sudden Closing
According to Smith Center COO Glenn Medas, shutting down the center's theaters was unprecedented.
"It was the first time in our history that we've ever had to cancel a show," explains Medas.
Booking and programming any event at The Smith Center can be a months-long process that includes making the initial inquiry, agreeing on mutual dates, working out artist guarantees and expenses, preparing and submitting offers to artists, managers and agencies, and then drawing up contracts.
Once the sad reality of Covid became clear, Medas says that his team had to start undoing the entire  process for every event and then redoing it all for a second, and sometimes third, time.
"Nobody was ready for a pandemic," recalls Medas. "We didn't know what that was going to mean and the unknown was the really tricky part."
Like most in the industry, Medas says that he thought things would be back to normal by the summer of 2020.
"Now we know what happened to that idea!," he says.
The Outpouring of Support from Patrons
While The Smith Center's closure has continued for more than ten months, its staff has been heartened  by the many sympathetic messages it has received from patrons.
"We miss The Smith Center a lot," says Haley, who says he and his wife have been subscribers since the center opened. "We love watching live entertainment there."
Looking ahead to reopening, The Smith Center began participating in a series of surveys with partner company Audience Outlook Monitor in May to start to gauge customer perception about attending arts and cultural activities and their feelings about going out again during and after the pandemic.
"In this unprecedented time, arts and culture leaders are faced with a series of challenging decisions about how and when to reopen theater doors," explains Medas. "We decided that we wanted to hear from our patrons and get their feedback on what will help them to feel safe returning to our events when the time comes."
The survey, which goes through December 2021, has targeted randomized groups of Smith Center ticket buyers in Nevada who have purchased a ticket from Jan 2018 to now.
In commenting on the data received to date, Medas says it seems like absence really does make the heart grow fonder.
"People definitely expect to attend events at The Smith Center again once we move beyond the pandemic," says Medas.
In comparison to other venues across the country, Medas says that The Smith Center exceeds the top three in terms of the percentage of people who say they are committed to the venue for the long term.
In findings from the most recent survey*, 82% of people say they are very eager to return to The Smith Center versus 62% of people nationally who say they are very eager to return to their respective venues.
"In fact, people who say they are eager to return seems to be on the increase," says Medas.
People also continue to be extremely fond of The Smith Center, with data showing this has stayed consistent throughout the duration of the survey.
The Dramatic Implications of the Closure
When The Smith Center went dark in March, Medas says no one could have imagined that it would take so long to reopen.
"With the cancellation or postponement of over 450 performances totaling over $32 million in ticket revenue, this has been a significant setback for The Smith Center," he says.
Fortunately, the vaccine currently rolling out throughout the country offers a glimmer of hope.
"We still don't have a date for reopening, but our calendars are filling up fast for the time when it is safe to do so," says Medas.
Medas assures that the curtain will rise again at  The Smith Center.
"We're seeing the light at the end of the tunnel and that makes me feel more upbeat than I have in months," says Medas.
Mark Haley says he and his wife will certainly be there when The Smith Center reopens.
"We'll probably be there helping you to open the doors!," he says.
The Road to Reopening
Due to public health and safety guidelines during the pandemic, The Smith Center has cancelled or postponed over 450 performances, totaling more than $32 million in lost revenue.
As a nonprofit, The Smith Center needs community support now more than ever.
To help open The Smith Center's doors again, click here to support our Road to Reopening Fund.
*Reflects survey results from the January 13, 2021, deployment.