2/14/2018
Community Impact / Education and Outreach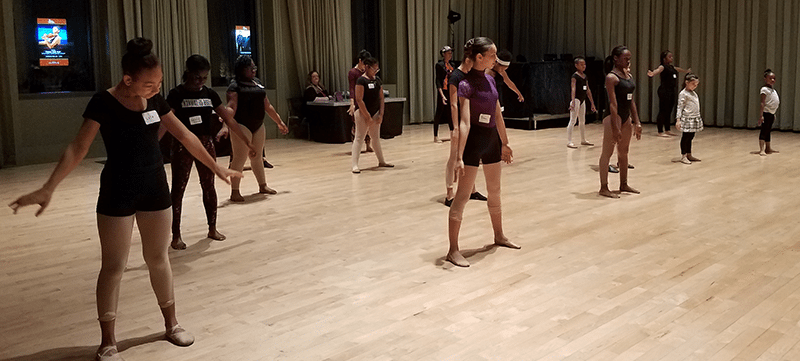 The Smith Center Hosts Improv, Dance and Songwriting Workshops
Matt Donnelly randomly chose four people from the crowd in Boman Pavilion at The Smith Center.
Standing them side by side, he commanded each to rant on the spot about their top pet peeves.
"Just let loose!" he urged as they complained ad nauseam about traffic, homework and siblings. "That's so funny!"
Donnelly knows funny when he hears it. 
Not only is he an advanced improv teacher at Vegas Theatre Hub, he has also taught at Peoples Improv Theatre in New York City, New York Film Academy and The Upright Citizens Brigade.
Donnelly was one of multiple nationally renowned artists who worked one-on-one with Southern Nevada residents in January, when The Smith Center hosted a special Night of the Arts workshop event.
Roughly 50 community members participated in the event, which not only included an improvisation workshop with Donnelly, but also a dance workshop with Tammy Silva-Pessagno, an acclaimed performer and choreographer who has danced with national Broadway tours and taught choreography nationwide.
The evening was rounded out by a songwriting workshop with singer/songwriter and multi-instrumentalist Sam Lemos, who has performed with legends like Boyz II Men and Skip Martin.
The event was the latest of The Smith Center's new Community Outreach Performing Artists (COPA) program, providing arts experiences for military families to help them reconnect after long separations.
As a nonprofit, The Smith Center received a grant to fund this outreach program from the John Krakauer Charitable Trust advised by Professionals in Philanthropy.
"It was such a memorable experience that we can't wait to participate again," said Darnell McKinney, sergeant first class with the Nevada National Guard. "In a short period of time, strangers from all walks of life came together and had a great time."
A Night Out for Military Families
The Night of the Arts event offered an entertaining night of bonding for many Nevada National Guard members and their families.
These included McKinney, who attended the improv workshop with his 10-year-old son Niguel.
They flexed their creativity through a variety of hilarious exercises, including puppeteering other workshop attendees' limbs while they improvised a scene.
"The experience my son and I received from the event was great father-and-son time, and the chance to try something different together," McKinney said. "The importance of spending quality time like this helps to build good memories and also helps to strengthen family relationships."
Broadening Horizons for Community Youth
The evening was all about community, with additional participants hailing from organizations across Southern Nevada, including Stupak Community Center, The Smith Center Young Ambassador program, Friendship Church and the Las Vegas Metropolitan Police Department.
Students from Trinity Conservatory of Performing Arts also attended the dance workshop, where Silva-Pessagno led the young performers in choreographing their own dance routine.
"This is exciting for me," she told the workshop participants. "Usually I'm just giving people steps, but you're going to create the choreography tonight."
Stacey Simmons, a Trinity dance instructor, said the workshop helped her students expand their skills.
"No matter what their level is, it's a great experience to take classes from other teachers to learn different aspects of dance," Simmons said.
Las Vegas resident Tammy Halladay, who also participated in the dance workshop with her children, said they "had a blast" creating their own routine.
"Bonding with each other for a Night of the Arts was exactly what we needed," she said. "We celebrated life through the arts."