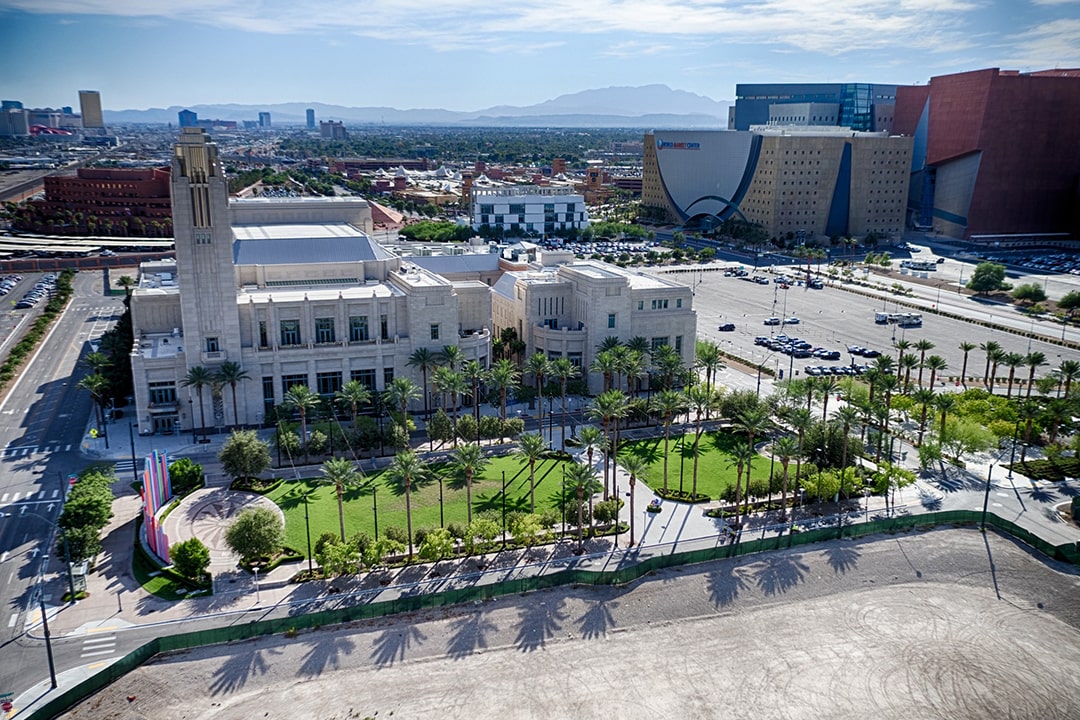 Plan Your Visit
In The Neighborhood
"The Smith Center and downtown restaurants go hand in glove. You can go to a restaurant, have a nice dinner and drinks and then head to The Smith Center in time to see a great show. After the show, you can even make it back to the restaurant to cap off the night."
– Frequent Smith Center Patron
The Smith Center is fortunate to be located at the heart of the thriving Symphony Park development in downtown Las Vegas, where patrons can find numerous hospitality and entertainment options for the whole family. The Smith Center team remains committed to supporting the downtown community and helping to bring people together for enjoyable experiences.
Preferred Dining Partners
Enhance your performance experience and discover your new favorite dining destination by checking out our preferred dining partners below. 
Old Soul
Old Soul is a pre-prohibition, elevated American classic kitchen. With an emphasis on bourbon and whiskey, a twist on classic cocktails while you eat on grandma's good china, it's truly a unique dining experience. Pull up your pants, tuck in your shirt, and get ready to have an adult cocktail.
495 S Grand Central Pkwy, Building A, Suite 116 Las Vegas, NV 89106
702-534-0999
Oscar's Steakhouse
Opened by former Las Vegas mayor Oscar Goodman, Oscar's is an upscale option for steaks and seafood in the dome of the Plaza Hotel.
1 South Main Street, Las Vegas, NV 89101
702-386-7227
Sambalatte
Hip hangout offering a unique atmosphere, pastries, sandwiches and imported gourmet coffee.
575 Symphony Park Ave. (next door to the Discovery Children's Museum)
Triple George Grill
Refined, Bay Area–style destination for steak, seafood and cocktails with a cozy, old-school vibe.
201 N 3rd St, Las Vegas, NV 89101
702-384-2761
Museums
Formerly known as Lied Discovery Children museum, The Discovery Children's Museum is a 3-story, 58,000-square-foot facility located directly adjacent to The Smith Center in downtown Las Vegas. The museum offers a vibrant environment with hands-on educational experiences for the whole family.  
The Las Vegas Natural History Museum is a private, nonprofit natural history museum in downtown Las Vegas. The museum's wildlife and prehistoric exhibits offer exciting and interactive learning experiences.
The Neon Museum is a nonprofit organization exhibiting the iconic signs of renowned casinos and other businesses from across Las Vegas history on more than 6 acres.
The Mob Museum, officially the National Museum of Organized Crime and Law Enforcement, is a nonprofit history museum in downtown Las Vegas that chronicles organized crime from the birth of the Mob to today's headlines.
Old Las Vegas Mormon State Historic Park is a state park in Las Vegas containing the Old Mormon Fort, the first structure built by people of European heritage in what would become Las Vegas 50 years later.
HOTELS AND CASINOS
A 2-minute walk from the Mob Museum, this downtown casino hotel is a block away from the Fremont Street Experience. Sleek, modern rooms have 40-inch flat-screen TVs, Wi-Fi and USB power outlets. Some suites add whirlpool tubs, vanities and living areas.
Overlooking the Fremont Street Experience, this classic downtown casino hotel opened in 1946. Rooms and suites in the hotel's four towers come with marble tubs, 42-inch flat-screen TVs and Wi-Fi. Club rooms add whirlpool baths, wet bars, and/or floor-to-ceiling windows.
From the bright, running neon bulbs to friendly dealers and great value, the traditional Las Vegas experience is still alive and well at downtown Las Vegas' Plaza Hotel & Casino overlooking the Fremont Street experience. The simple but modern rooms all feature marble bathrooms and flat-screen TVs; suites add a wet bar and sitting area. A resort fee includes Wi-Fi, free bottled water and valet parking.