12/18/2019
Education and Outreach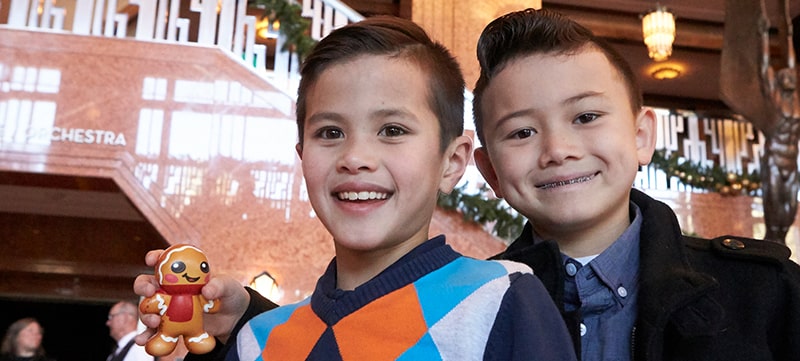 For one Las Vegas mother with a son on the autism spectrum, she often perceives her child as "not welcome" at public events, she says, due to his behaviors beyond her control.
But at The Smith Center's recent sensory friendly performance of "Dr. Seuss' How the Grinch Stole Christmas! The Musical" — specially designed for audiences with disabilities — she didn't have to worry about silencing him or feeling embarrassed by outbursts.
Instead, they could enjoy the show pressure-free, in a relaxed theater environment fully accepting of audience members' behaviors, with the show adapted to reduce triggering effects.
Best of all, her son got a kick out of the joyful production.
"Since The Smith Center began hosting sensory friendly performances for our special needs children, my son has grown to love the theater," she says. "In my wildest dreams, I never thought he would be able to sit so calmly. He understands the environment and actually enjoys the experience."
Sensory Friendly for the Broadway Series
The Smith Center received many similar responses from attendees of this special performance.
With approximately 1,000 community members attending, this marked The Smith Center's second-ever presentation of a sensory friendly performance for a show in its Broadway Las Vegas Series.
Made possible by support from Windsong Trust, Ameriprise Financial and other generous donors to The Smith Center — a nonprofit organization — sensory friendly performances uphold the center's mission to make the arts accessible to all, notes Melanie Jupp, associate director of Education and Outreach.
Her team hoped to include a wide range of Southern Nevadans with disabilities, as "The Grinch" appeals to audiences across many generations.
"Sensory friendly performances can be a crucial entry point for people with disabilities to become accustomed to everything involved in attending a performance, if they haven't previously felt comfortable trying," Jupp says.
Adapting the Show for Audiences with Disabilities
The Grinch team carefully adapted the show for its sensory friendly performance.
This included the actors adjusting their emotional exclamations, slower lighting cues, as well as the removal of strobes, flashing lights, kazoo sounds and crashing noises.
"The care they took in creating these adjustments is evident," Jupp says.
The Smith Center also provided many supportive elements, including a pre-show guide to help audience members prepare for their visit. The center also offered specially trained staff and designated areas for individuals to take a break, if needed.
Many hailed the performance as a rare chance to enjoy a holiday experience alongside family members with disabilities.
This includes a woman who attended with her grandson on the autism spectrum.
"Thanks to The Smith Center, we can come to a performance as a family and he feels safe," she says. "I love being in an environment where everyone is welcomed and respected."
More to Come
Following this success, The Smith Center will present sensory friendly performances of hit family shows this spring.
This includes "Beep" on March 7, a story of unexpected friendship told with puppetry. "Wilde Creatures" on April 4 brings Oscar Wilde's classic fairy tales to life with comedy and original tunes.
The Smith Center sees a heartening result of presenting ongoing sensory friendly shows, Jupp notes.
"We are beginning to recognize families and guests who are becoming regular attendees of these performances," she says. "We are always striving to create a memorable day for the people we meet."