11/13/2018
Performances and Artists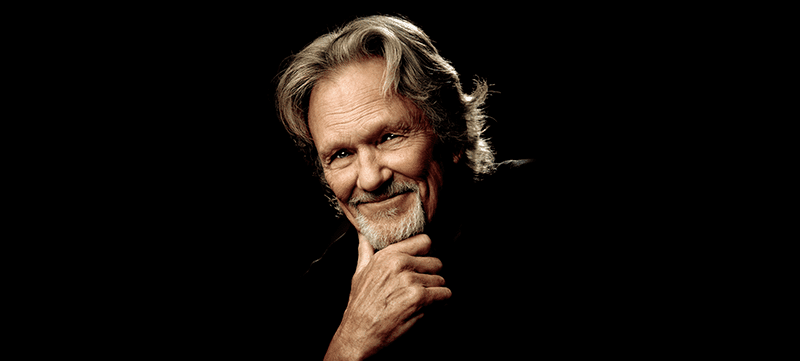 A three-time Grammy winner best known for country megahits like "Me and Bobby McGee" and "Help Me Make It Through the Night," Kris Kristofferson has penned honest, folksy tunes recorded by over 450 artists. Beyond reaching the masses through his music, the prolific entertainer has also graced the silver screen through the decades in hit films like 1976 classic "A Star Is Born" with Barbra Streisand.
If all of this wasn't impressive enough, this film-and-music legend has more achievements under his belt than even longtime fans might realize.
With Kristofferson gracing The Smith Center's stage on January 26 – accompanied by country band The Strangers, which performed with Merle Haggard for years – read below to learn some fascinating gems.
Kris Kristofferson Was a Rhodes Scholar
Kristofferson earned a Rhodes scholarship to study literature at Oxford, where he still found time to box, play rugby and write songs before graduating.
He Turned Down the Chance to Teach at West Point
After serving in the Army as an Airborne Ranger helicopter pilot and achieving the rank of captain, Kristofferson was offered an assignment to teach at the United States Military Academy at West Point in 1965.
Inspired by the songs of Willie Nelson, who he had come to idolize during his military years, Kristofferson instead chose to move to Nashville to pursue a music career.
He Has Acted in Over 70 Films
Regardless of what film genres you prefer, odds are you love a movie that stars Kristofferson. Just a few blockbusters featuring Kristofferson include "A Star Is Born" – which earned him a Golden Globe for Best Actor – the "Blade" trilogy opposite Wesley Snipes, "Lone Star," and for families, "Dolphin Tale." 
He Started a Band with Willie Nelson, Johnny Cash and Waylon Jennings
Imagine seeing this supergroup live! These four country goliaths recorded three albums together across the span of a decade as The Highwaymen, with the debut album going platinum.
Taking their camaraderie one step further, the four icons also starred together in 1986 TV Western, "Stagecoach."
Kris Kristofferson & The Strangers performed as a part of the 2018-2019 season.