3/15/2017
Broadway Las Vegas / Performances and Artists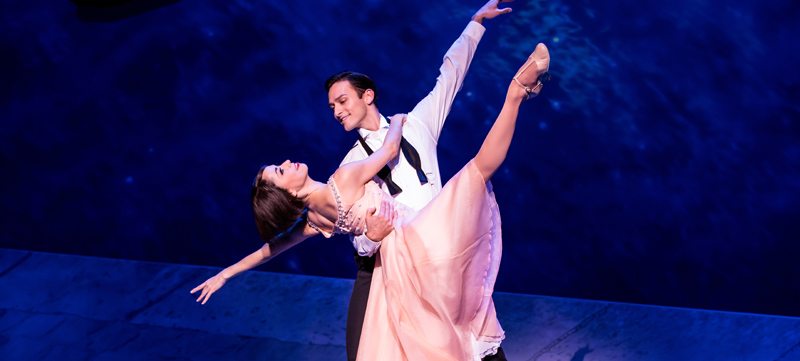 Adapting a beloved film for the stage can be deceptively challenging — especially if it's a classic movie like "An American in Paris" starring Hollywood icon Gene Kelly with timeless songs by Ira and George Gershwin.
The creative team for this Broadway show knew the stage version must shine on its own terms.
"We were eager to make a show that would appeal to people who love the movie, but at the same time take those who hadn't seen it on a different kind of journey," says Christopher Wheeldon, the show's Tony Award-winning choreographer and director.
A Groundbreaking Film
The 1951 film resulted from director Arthur Freed attending a concert of George Gershwin's "An American in Paris," a piece Gershwin composed in 1928 to portray an American visitor in Paris.
Freed was inspired to create a movie built around the title and Gershwin's melodies.
Little did he know this would become one of Hollywood's most famous musicals — groundbreaking with its 17-minute final ballet sequence — and garner six Academy Awards.
In the 1990s, the Gershwin brothers' estates approached producers about bringing the musical to the stage.
Up for the challenge, Wheeldon worked with playwright Craig Lucas to create a show inspired by, but not beholden to, the movie.
"We set about making our version of the story, but we didn't want to completely turn our backs on the movie," Wheeldon says.
A Different Era
Wheeldon found a great advantage in approaching the storyline from a modern perspective, as opposed to the film that was made when the post-World War II setting was very fresh.
"With the distance of time, there was so much more we could do," Wheeldon says. "We had the freedom to place Paris in a more realistic, historical context, and talk about what the city was like after the Nazis left, and how romance and art and music were balm to the wounds."
With this in mind, the creative team maintained the movie's romantic storyline, but with characters rethought and the narrative deepened for a contemporary audience.
Iconic Music
Set on keeping famous melodies by the Gershwins, Wheeldon worked with arranger Rob Fisher to select pieces that "best told our story."
These included songs like "The Man I Love" and "They Can't Take That Away From Me" that weren't in the film.
"We wanted it to feel like the Gershwins had written this music specifically for our show," Wheeldon says.
Gotta Dance
Wheeldon chose to use dance to help advance the show's story, as his mentor Jerome Robbins did in "West Side Story."
This is why the musical dances from beginning to end with a variety of styles, including tap, jazz and ballet.
Wheeldon sets the tone with a wordless opening sequence performed to Gershwin's Concerto in F.
"I wanted to signal to the audience that there is going to be a lot of dancing, and a lot of storytelling through dance," he explains.
As in the film, the show culminates with the American in Paris ballet.
The stunning dance sequences make the show complete, Wheeldon says.
"It features incredibly beautiful, talented performers doing extraordinary things," he says.
"An American In Paris" was a part of the 2016-2017 Broadway Las Vegas season.