1/29/2020
Performances and Artists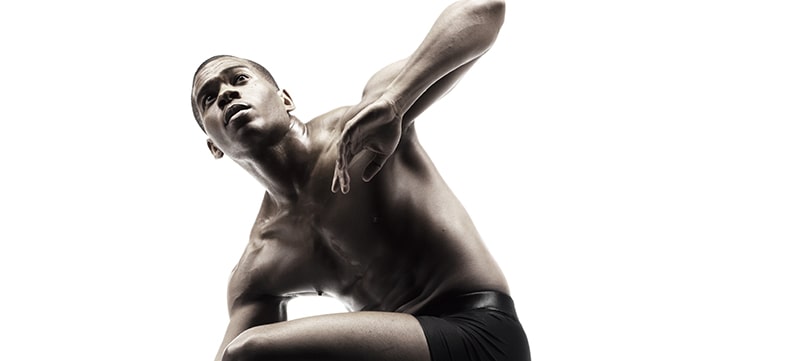 Alvin Ailey American Dance Theater to Perform All-New Works and Renowned Classics
From his many years dancing with the Alvin Ailey American Dance Theater, Matthew Rushing has "an extremely long list" of favorite moments.
These include performing in South Africa just after Apartheid ended, and dancing for President Barack Obama.
"I've traveled the world for years," says Rushing, now associate artistic director with the company.
This reflects the global impact of the Alvin Ailey American Dance Theater throughout its 60 years.
Beyond performing as one of the foremost companies in contemporary dance — with upcoming shows at The Smith Center on March 27 and 28 — it also serves as a cultural ambassador for the U.S. around the world.
"It's a huge responsibility, but it's not burdensome, because it's what we love to do," Rushing says.
With this in mind, he underscores the company's driving mission: performing electrifying dances for all audiences, world leaders and average citizens alike.
"Mr. Ailey said dance came from the people, and it should be delivered back to the people," Rushing says of the company's namesake, dancer and choreographer Alvin Ailey. "Everyone should be able to come (to our shows) and connect to something, and come away feeling inspired."
Showcasing All-New Works
Southern Nevada audiences will have much to enjoy at the company's upcoming performances.
These will feature all-new works, as well as some of the group's most revered, classic pieces.
"These pieces are all extremely different from one another," Rushing says.
The new works include "Ode," choreographed by company member Jamar Roberts, honoring the mourning that stems from gun violence.
"Once you hear the subject matter of gun violence, I'm pretty sure there's some apprehension or some ideas that naturally come up," Rushing says. "But to see the work and see what Jamar created, how he took such a heavy subject matter and brought beauty into it, it's breathtaking."
The company will also showcase new works "EN," a Japanese piece conveying the nature of fate, and "Ounce of Faith" by company member Darrell Grand Moultrie, illustrating how having faith in people can transform their lives.
The group will also perform "Ella," choreographed by the company's artistic director Robert Battle.
Fitting to the jazz icon's many years performing in Las Vegas, the piece honors the legacy of Ella Fitzgerald.
"Rarely have I seen someone able to choreographically capture the artform of scat, which Mr. Battle has done," Rushing says.
Celebrating Classic Pieces
The company will perform two of its most popular works, including "Divining," choreographed by the group's former artistic director Judith Jameson in the 1980s.
Set to a highly percussive score, the mysterious piece portrays an emotional quest.
"It's still relevant, and still powerful," Rushing says.
The group will also perform its signature piece "Revelations," an homage to African-American traditions and culture.
Choreographed by Ailey in 1960, this powerful work earned the company its first international recognition. The piece has been performed worldwide, including at the White House numerous times.
"This is the piece that brought us around the world, and gave us the foundation of the company that we are today," Rushing says.
A Demanding Lifestyle
Rushing acknowledges the company demands a great deal from its dancers.
Touring roughly eight months of the year, the cast also faces a packed schedule of rehearsing, learning new works, taking classes in numerous dance forms and conducting outreach efforts.
"It's a sacrificial lifestyle," Rushing says.
And absolutely worth it, he adds.
"All of these things are the exact things that we love," he says. "It just so happens to take us around the world."
Please note: the status of this performance has changed. Please visit our information page for COVID-19 related performance updates HERE.