9/4/2019
Performances and Artists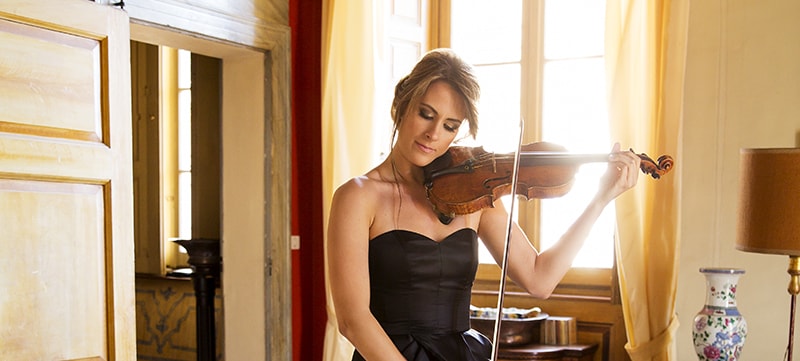 Ever battle with insecurity, or worry about flubbing at work?
Imagine living as a high-profile solo violinist like acclaimed virtuoso Francesca Dego, whose life since the age of 7 has involved a whirlwind of international competitions and performances at leading venues around the world.
Underlying each concert remains the constant pressure of delivering perfection, with complex and emotional solo pieces.
With Dego performing Tchaikovsky's daunting Violin Concerto in D Major with the Las Vegas Philharmonic on September 7 — a piece hailed as one of the most famous and rigorous violin concertos ever composed — she shares below a few highlights, surprises and quirks from life as a top solo violinist.
Constant Practice, Travel and Competitions
One thing Dego learned early on: succeeding as a professional solo musician takes hard work.
She practices up to five hours a day, occasionally exceeding that "when there is hours of repertoire to keep under my fingers," she says.
Practice sessions rarely occur in the same place. Between international rehearsals, performances and catching concerts featuring her husband, conductor Daniele Rustioni, Dego constantly hops from country to country.
"I'm a bit of a gypsy," says Dego, whose recent and upcoming concerts span England, the United States and Italy. "I would say three out of four weeks I am not at home."
Another requisite of life as a soloist includes performing in a torrent of international competitions. Dego has personally earned a wide range of international prizes, including becoming the first Italian woman since 1961 to make the final round in the Paganini Prize competition in Genoa, Italy.
Winning isn't the only reason to compete, Dego emphasizes. It's also the best way to defeat nerves.
"It's a step every young musicians has to take," she says. "It's good to be nervous and put oneself into a situation where nerves almost put you in a corner, because it's the only way to be able to overcome stage fright at a later stage."
Personal and Powerful Performances
Every performance has special moments and memories tied to it, Dego says.
Her favorites include the 2014 Violinists of Hope concert in Rome, for very personal reasons.
"It was definitely a highlight on an emotional level for me, because I performed on violins that were owned by victims of the holocaust," she says.
owned by victims of the holocaust," she says.
Her own family escaped from Germany and fled to the United States in the 1930s, she explains, adding that 47 family members never made it out of Europe.
"It was a really incredible emotion to be able to give voices back to these musicians who were silenced during the war," she says. "For a violinist, the violin is their voice, and to have these silent instruments not being able to play after such tragedy, I think (playing them at the concert) was really an incredibly symbolic, wonderful event."
Performance Quirks
Dego admits to a few eccentricities as a performer.
This includes an obsessive need to wash her hands.
"I do that a lot during practice, and I have to wash my hands literally seconds before walking on stage," Dego says. "It's interesting with pieces with a long orchestral introduction, that I actually then feel during the introduction that I would ideally like to wash my hands again."
Keeping Cool on Stage
Dego uses other methods of quelling nerves on stage.
Like breathing.
"Always remember to breathe. It sounds obvious, but I sometimes hold my breath, as do many colleagues, during a performance," Dego says. "I envision roots, and I try to settle back and find stability and balance on stage by breathing and feeling like I'm going down into the stage, rather than holding my breath and going up."
The Ultimate Concerto
For a soloist like Dego, works such as Tchaikovsky's Violin Concerto in D Major have significant personal meaning.
Since she first performed it at 18, the piece has remained among those she plays the most.
"I adore performing it, although it really is one of the most taxing, tiring and just powerful concertos for the violin," Dego says of the approximately 35-minute concerto, in which the violinist plays for nearly the entire duration. "You get to the end, and you almost need an ambulance or an arm transplant or a brain transplant."
She has no idea how much time it required her to memorize and polish the piece, though she estimates "very many hours."
"You give so much emotionally in this piece because it is so passionate and so gorgeous," she says. "It really takes its toll on the one hand, but gives you back so much of what you've given it in long hours of practice."
That's also why she believes the piece remains so incredibly popular.
"I think it's the sheer sense of excitement that drives the audience crazy with this concerto," Dego says. "There are no moments where the tension disappears. In even the sweetest and most sensitive parts, you can always feel this drive, this sense of movement forward, and it's absolute genius."
Violinist Francesca Dego performed Tchaikovsky's Violin Concerto in D Major with the Las Vegas Philharmonic during their 2019-2020 season.