5/15/2019
Education and Outreach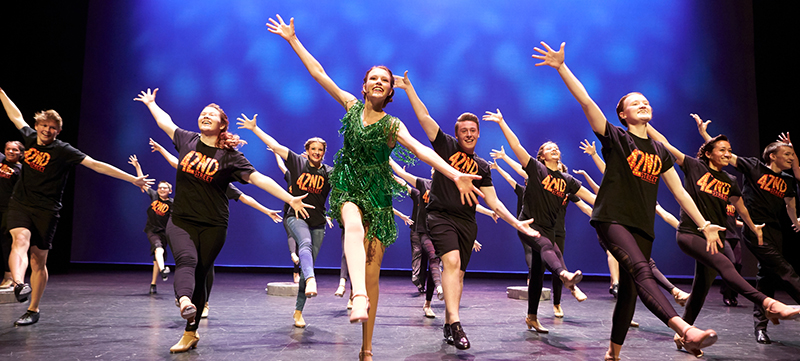 Backstage at The Smith Center's seventh-annual Nevada High School Musical Theater Awards, students in shimmering green costumes embraced with giddy enthusiasm.
Hailing from Lake Mead Christian Academy, these students had just made their Smith Center debut on stage in Reynolds Hall, where they performed the high-energy, ensemble tap number from their school's production of "42nd Street."
They had also just secured top honors at this year's awards program, with their school receiving Best Overall Musical Production and Best Choreography Execution for its elaborate, large-scale production.
"It was a lot of work, and not a lot of time to do it," said 10th-grade student Andrew of preparing the production.
For the students' many hours of hard work to be recognized — including long nights rehearsing singing and dancing, fashioning set pieces and coordinating 1930s costuming — felt truly validating.
"It's absolutely wonderful. There are no words to describe (how we feel)," Andrew said. "There's just love."
This reflected the whole purpose behind this year's significantly expanded Nevada High School Musical Awards at The Smith Center.
Targeted to celebrate all performers and talents that contribute to high school musical productions, this year's program offered an expanded number of awards categories — and also featured more student performances than ever before, showcasing the impressive results of the students' dedication.
"These productions are only as strong as the unity of the entire team," said Elena Ferrante-Martin, theater teacher with Bishop Gorman High School. "Celebrating the achievements of the various parts that make a production great is imperative to reinforce the value of every player on the team."
Honoring All Talents
Previous years of the Nevada High School Musical Theater Awards presented four awards for solo performances by lead actors and actresses.
This year's event, however, presented a total of 14 awards honoring all of the performers and talents behind high school musical productions, with new award categories including: Best Supporting Actress, Best Supporting Actor, Best Featured Performer, Best Direction, Best Ensemble, Best Student Orchestra, Best Choreography Execution, Best Costume Design and Creation, Best Set Design and Construction and Best Overall Musical Production. Full list of winners included at end of article*
These winners were chosen by impartial theater judges selected by The Smith Center, who attended productions of 20 nominated high schools to adjudicate the shows in the eligible award categories.
"The purpose of the Nevada High School Musical Theater Awards is to make sure that we recognize these great performers and these great students in our schools," said Smith Center President and CEO Myron Martin, who cohosted this year's event with acclaimed music director Keith Thompson.
"This experience will help all of our students in terms of building their confidence, whether they pursue a career in science, technology, engineering or math," Thompson added.
For the first time in the program's history, the event also featured performances of electrifying musical routines by the full ensembles of high school productions.
These included Bishop Gorman High School performing stirring selections from its production of "The Sound of Music," and Las Vegas Academy of the Arts performing a sizzling rendition of "Too Darn Hot" from its production of "Kiss Me Kate."
"This opportunity changed (the students') lives," Ferrante-Martin said of the impact on her Bishop Gorman students to perform at The Smith Center. "They were so excited, so humbled."
Her school's production also won Best Direction, which felt deeply rewarding of the hard work from both the students and Ferrante-Martin, who dedicated the performances to her recently late mother.
"Words cannot describe what I felt, and still feel, about receiving this honor," she says. "The road was rough, but I did the show for the memory of my mother and everything that she instilled in me."
Two Broadway-Bound Students
As in prior years, the event featured impressive ensemble performances by 36 talented students who played lead roles in their high school productions. These students were nominated by their schools to contend for the Best Lead Actor and Best Lead Actress awards.
Of these, 12 finalists gave solo performances at the event, with Best Lead Actress and Best Lead Actor awarded to Joey Cooper from Las Vegas Academy of the Arts and Sophia Wilson from Bishop Gorman High School.
"I'm very shocked, but I'm absolutely delighted," said Cooper, who portrayed wide-ranging characterization in his rendition of "Where Is the Life That Late I Led?" from "Kiss Me Kate."
These two winners will receive an all-expenses-paid trip to New York City in June, where they will compete on a Broadway stage in the National High School Musical Theatre Awards, the Jimmy Awards.
This life-changing experience includes coaching, master classes, rehearsals with renowned professionals, and attending a Broadway show where they will meet the cast. They will also receive opportunities for merit scholarships and professional advancement.
Cooper's victory followed rigorous preparation. He learned the lead role for his school's production on very short notice, he said, due to last-minute casting changes.
"I had three weeks to memorize everything," he said.
Fortunately, Cooper hails from a family of entertainers, including a mother who danced professionally in "Jubilee!" and "Folies Bergere."
He appreciated how participating in the Nevada High School Musical Theater Awards included coaching from Thompson, who directed "Jersey Boys" at the Palazzo and "The Producers" at Paris Las Vegas.
"This was an amazing experience. Keith Thompson was so kind to work with," said Cooper, who will attend Monclair State University and major in musical theater.
Wilson, who performed the title song from "The Sound of Music," said she invested many hours researching her role of Maria Rainer.
"(Winning Best Leading Actress felt) absolutely amazing," said Wilson, who has starred in multiple high school productions.
When her college planning initially looked at alternatives to theater, "my heart hurt," she said. "I can't live without music and theater."
Now set on a future in theater, she plans to take full advantage of this trip to the Jimmy Awards, marking her first visit to New York City.
"I hope to get more experience, more training," she said. "It is my dream to be on Broadway. I can't see myself doing anything else."
In addition, Abraham Hunsaker from Silverado High School and Ashley Gonzalez from Palo Verde High School each earned a Spotlight Award. They will serve as alternates at the national competition, if Cooper and Wilson are unable to attend.
Gonzalez offered simple advice for other aspiring performers.
"Anyone who's afraid to try musical theater, do it. It's so worth it," she said.
The award recipients from The Smith Center's seventh-annual Nevada High School Musicals include:
Best Featured Performer: Tenaya King, "Newsies," Del Sol Academy of the Performing Arts
Best Supporting Actor: Sean Evans, "Matilda the Musical," Green Valley High School
Best Supporting Actress: Riley Adams, "In the Heights," Palo Verde High School
Best Choreography Execution: Lake Mead Christian Academy, "42nd Street"
Best Costume Design and Construction: Las Vegas Academy of the Arts, "Kiss Me Kate"
Best Direction: Bishop Gorman High School, "The Sound of Music"
Best Ensemble: Las Vegas Academy of the Arts, "Kiss Me Kate"
Best Orchestra: Foothill High School, "Kiss Me Kate"
Best Set Design and Construction: Palo Verde High School, "In the Heights"
Best Overall Musical Production: Lake Mead Christian Academy, "42nd Street"