9/23/2020
Inside the Theater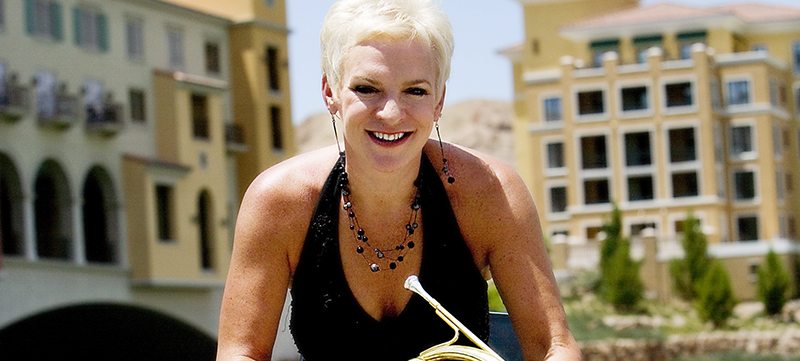 It's easy to take an orchestra pit for granted.
When audiences experience touring Broadway productions at The Smith Center, they relish the booming and sweeping melodies flowing from the hidden compartment beneath the stage.
But little do many realize, the musicians tucked in this underground space must grapple with numerous challenges to provide a polished, flawless sound when the lights go down.
Below, Lano discusses the many challenges of playing in the pit - and how top professionals conquer these.
Learning a Show's Music, Fast
When touring Broadway productions hire local musicians to play in their pit orchestra, these musicians sometimes receive the show's music mere weeks before opening night.
This gives them limited time to learn, practice and polish hours of music.
Most professional musicians have the "speed and fluency" to master new music quickly, Lano assures.
"The only thing missing is context," she notes.
It's key to know if a musician must blast a note when a character does something on stage, for instance – or how a song accelerates to follow the flow of a dance.
To understand this context, musicians must do their homework before showtime, Lano says.
"We can familiarize ourselves with the shows before they hit The Smith Center," she says. "In most cases, the production's music director makes sure we have conductor's videos of the entire show a few weeks before the show's run begins."
Minimal Rehearsal Time
Local musicians usually have just one or two rehearsals with the touring show's orchestra before opening night.
That means they have just a few hours of rehearsing with an ensemble they've never played in before, with the goal of performing together flawlessly.
It all comes down to preparation, Lano says.
If musicians have practiced the music and watched the conductor's tapes, she says, they will have no trouble jumping into a touring group and playing seamlessly.
They will also know any problem areas to quickly address during rehearsal.
"It's just a matter of going through some of the traps we might fall into, and then running the show," she says. "By opening night, things are usually pretty smooth."
Playing Multiple Instruments
On top of the many other challenges in the pit, some musicians have to play two or more instruments.
Lano breaks down the lingo for this.
Musicians who play multiple instruments in a show earn the title of "doublers." Their "books" – their folders of show music – spell out the number of instruments they must play.
Each show has different needs, Lano adds.
"The woodwind books can call for flute and piccolo, all kinds of clarinets, alto, tenor and soprano saxophone, oboe, English horn," she describes. "In the case of a show like 'The Lion King,' the flute book calls for an insane number of ethnic flutes."
How do musicians conquer this? By being amazing.
The production hires musicians based on the book that best suits their skills.
In the pit, these musicians sit with multiple instruments by their side, and simply switch between them as the music demands.
"There is an art to being a doubler," Lano says.
Musicians do receive extra pay for the additional effort, she notes.
This applies to many artists. Trumpeters might also play flugelhorn and piccolo trumpet. Trombonists might also play bass trombone and tuba. Sometimes violinists also play viola.
"Percussion is another book that calls for a lot of doubles," Lano says. "If you've ever looked over the edge of the pit, you'll see the percussionist's setup is pretty extensive."
So Much Sitting
Audience members might not think about it, but playing in an orchestra pit requires sitting. A lot of sitting.
The musicians sit playing throughout three-hour performances for several nights a week — on top of daytime performances — with limited space for any movement.
This can have painful impacts on the body, Lano acknowledges.
"Playing an instrument is like being a small-muscle athlete," she says. "When our bodies are out of whack, it's much more difficult to play at the high levels at which we are called to perform."
But she finds ways to overcome it.
Outside of performances, "I stretch, swim, stay active, eat healthy, drink plenty of water, and have my chiropractor on speed dial," she says.
No Nights Off
Another challenge can arise with playing in the pit for a touring Broadway production: No nights off.
"Playing a show is so specialized, and it's always so limited in regard to rehearsal time, that it's not an option to take a night off if you're having a tough day or a family crisis," Lano says.
As touring productions typically perform for just one or two weeks at The Smith Center, training substitutes simply isn't feasible, she adds.
Musicians experiencing personal issues must simply get through performances.
"Of course, if there's a situation that's a matter of life or death, we can find someone to come in and cover for us," Lano says. "It's truly different from other professions in that we generally can't miss a night of work just because we're under some kind of life stress — even when, at times, it's pretty heavy."
Worth the Effort
Playing in beloved productions for packed crowds of her fellow Southern Nevadans makes all of this worthwhile.
"There's so much to love about being in the pit," Lano says. "Broadway shows are inspiring, challenging, joyful, heartbreaking and so full of life."
She also enjoys the thrill of entering each touring production's distinct culture and environment, each like its own separate world.
"We not only get to make great music while we're in there, we're also creating indelible memories that will last a lifetime," Lano says. "I wouldn't trade it for anything."