10/15/2019
Education and Outreach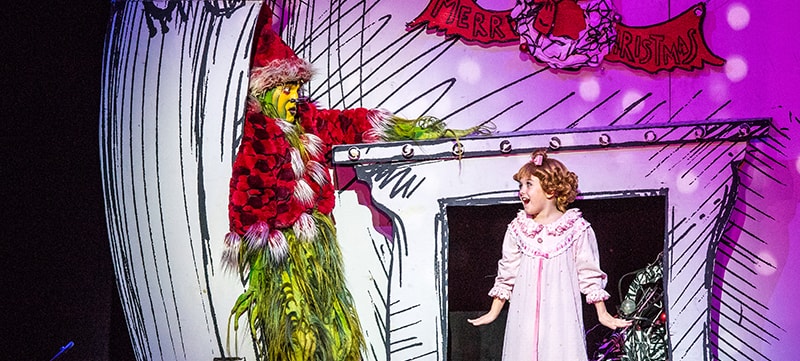 Ameriprise Financial Helps Present Sensory Friendly Performance
Throughout the upcoming season, hundreds of Southern Nevada families will have the opportunity to attend special sensory friendly performances at The Smith Center – all designed to accommodate audience members on the autism spectrum and with other intellectual and developmental disabilities.
Kicking off with a sensory friendly performance of Broadway musical "Dr. Seuss' How the Grinch Stole Christmas!" on November 30, these performances offer supportive features such as reductions of jarring noises and lights, specially trained staff on hand, and designated quiet zones for audience members who need a break during the show.
Above all, sensory friendly performances offer an inclusive, judgment-free atmosphere.
As a corporate funder to The Smith Center, a nonprofit organization, Ameriprise Financial is helping make all of this possible.
With the generous support of Smith Center funders such as Ameriprise Financial to subsidize ticket costs, all of The Smith Center's sensory friendly performances of the 2019-20 season will offer accessible ticket prices.
"It's important that everyone be able to experience the theater in a way that meets their needs," says Sarah Richter, senior manager of Community Relations with Ameriprise Financial. "We really believe in access to the arts, and we want to help provide that in the Las Vegas area."
A Holiday Show for All Audiences
Broadway smash "Dr. Seuss' How The Grinch Stole Christmas!" offers delightful elements for all ages, with infectious music and comedy, combined with the beloved characters and storyline of Dr. Seuss' classic children's book.
Presenting a sensory friendly performance of this musical offers a fun opportunity for families with special-needs members to make holiday memories together, Richter says.
"I think choosing a performance that's popular and that can be adapted to meet the needs of this audience is a wonderful way to bring people in," she says.
This marks The Smith Center's second sensory friendly performance of a Broadway production.
Ameriprise Financial also provided support for the center's first in 2018, for a performance of Disney's "The Lion King," which Richter hails as a great success, with over 1,000 Southern Nevada families attending.
"'The Lion King' really represents a performance for all the senses, so to make it an open setting for people to enjoy it as they need to was really remarkable," she says.
More Sensory friendly Performances to Come
The Smith Center will present more sensory friendly performances in 2020, including family show "What Do You Do With an Idea?" in April.
Based on the New York Times best-selling book by Kobi Yamada, this features internationally acclaimed Inlet Dance Theatre performing dazzling choreography to portray a magical world where ideas grow and take flight.
Ameriprise Financial looks forward to seeing families of all kinds enjoy theater experiences together, Richter says.
"We're proud of this partnership and all of the sensory friendly performances," she says. "(We value) the thought behind how The Smith Center reaches out to every audience and is inclusive of all community members."
The Smith Center's sensory friendly performance of "Dr. Seuss' How the Grinch Stole Christmas!" was a part of the 2019-2020 season.

This sensory friendly performance is made possible through a major gift from Windsong Trust, Ameriprise Financial and other generous Smith Center donors.
Photo Credit: Philip Huffman as The Grinch and the 2016 Touring Company of Dr. Seuss HOW THE GRINCH STOLE CHRISTMAS! The Musical