10/26/2019
Community Impact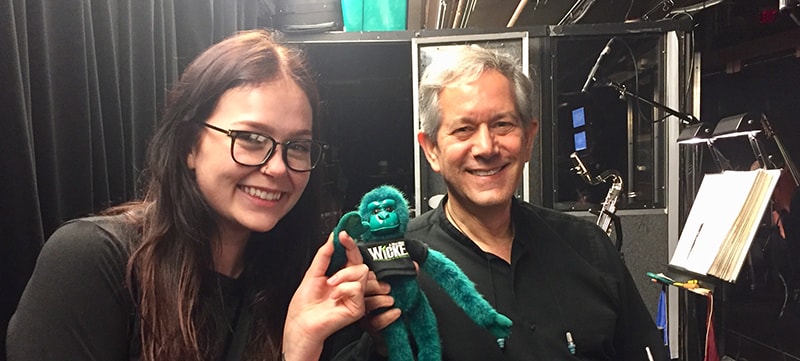 As thousands of Southern Nevadans enjoy Broadway smash "Wicked" this month at The Smith Center, the show's compelling characters come to life through the orchestra pit's mighty blasts and whimsical melodic surprises from Stephen Schwarz's Tony-nominated score.
"Stephen Schwartz's score is a blast to play," says the pit's Reed 2 performer Stephen Caplan, who teaches oboe at the University of Nevada, Las Vegas (UNLV) and serves as one of many top Las Vegas musicians regularly tapped to perform with Broadway tours.
Few get to experience this acclaimed music from within the pit itself.
But three UNLV students enjoyed that very opportunity this month at The Smith Center.
Caplan arranged for three of his students to sit in with the orchestra pit during "Wicked" performances, to experience firsthand the thrilling rush, the many challenges and the high level of professionalism found in a Broadway show pit.
The Smith Center is also looking into providing similar experiences for students with future performances.
"(I hope they gain an) understanding of the focus one needs to consistently perform well," Caplan says. "All the musicians in the pit are great players who take the work seriously, but we have a lot of fun, too."
They learned that and more, assures one of the three students, 21-year-old Cecilia Farmer.
"You always imagine what it feels like to be in the hot seat," Farmer says. "To be right there in the pit, it really gives you an idea of how exciting it can be to actually perform for an audience."
An Insider Experience
From the moment Farmer walked into the "Wicked" orchestra pit, she felt surprised.
She found far fewer musicians than she'd expected, just 14, yet "I would close my eyes and listen around me, and they all managed to make such a small group of people sound so much larger," she says.
Farmer also felt impressed at how many musicians played multiple instruments, and that the pit played nearly continuously throughout the show.
"It isn't easy to constantly switch instruments and put on a completely seamless performance," she says. "(This experience) inspired me to work harder and to practice even more."
Following along with Caplan's music, Farmer adds, she found the musicians ever ready for the unexpected — including cutting a section of music when a performer sang faster than usual.
"The most important thing I learned was that you can do a show over and over, but it won't guarantee the performance will always go the same way," she says. "You really have to be on your toes."
Fellow UNLV oboe student, 22-year-old Jimmy Nguyen, says he focused on how the music blended with the singers they could faintly hear from the stage.
"The singers, audience reactions and musicians bring the show to life, even if I couldn't see the stage from where I was," Nguyen says.
As he aspires to become a professional orchestra pit musician someday, sitting with the "Wicked" pit serves as a valuable learning opportunity.
"This is a unique experience that I never would have thought I had the chance to see," Nguyen says. "Being in the pit validated for me that this is the right career path for me, and that I should never give up on my dreams."
The Professional's Perspective
There are many aspects of performing in an orchestra pit that young musicians might not realize, Caplan says.
For instance, the local musicians who joined the "Wicked" tour's traveling orchestra received the music just a month in advance — common for many Broadway shows.
They had a mere nine hours of rehearsal with the pit orchestra before opening night.
"The show is more than two and a half hours of constant playing, with a lot of complicated changes, so it felt like barely enough," Caplan says.
Hours of sitting in the pit also takes its toll, Caplan adds.
"Everyone in the pit is talking about their massage therapist, chiropractor or yoga class," he says. "Five performances on weekends means almost 15 hours of sitting."
It's all worth it to experience exhilarating performances, he adds.
Las Vegas provides Caplan with many memorable performance opportunities, including serving as principal oboist for the Las Vegas Philharmonic and backing up pop superstars on the Strip.
"I am excited about the diversity of music here. Las Vegas has truly become the entertainment capital of the world," he says. "What more could a musician want?"
Caplan offers simple advice for young musicians aspiring to reach his level.
"Work hard, be versatile and show up on time," he says.