3/25/2020
Education and Outreach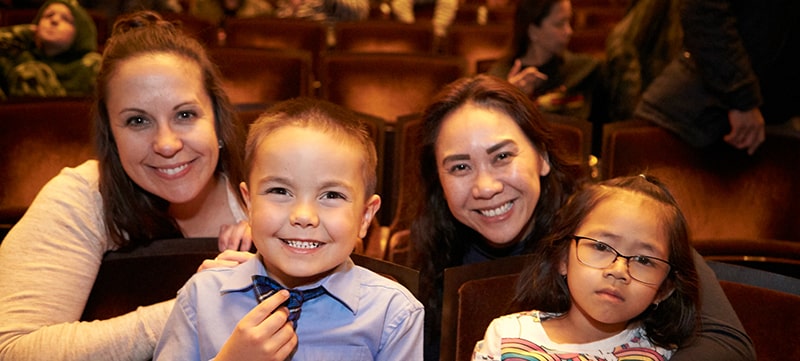 With schools temporarily closed and families remaining home, many parents might be searching for stimulating activities to engage their children.
Fortunately, opportunities abound to create and entertain at home.
Many arts-related games and crafts can expand the imagination, and provide valuable quality time.
Check out fun ideas below from The Smith Center for at-home activities to delight children and spark an interest in the arts.
Make Instruments as Craft Projects
Try a craft project that can follow with a concert! Tweaking basic, household objects can make a variety of instruments for kids to enjoy. Some simple examples include:
Can drums:
Wash out an empty food can, and decorate with paint, markers or stickers
Cut off the base of an empty balloon, and stretch it over the mouth of the can until it seals
Find pencils, paint brushes or pens to use for drumsticks
Paper-towel-roll shaker:
Tape over one end of a paper towel roll
Fill the roll with small items like buttons
Tape over the other end of the roll
Decorate outside of roll with paint, markers or stickers
Act Out a Child's Favorite Book
Challenge children to reimagine their favorite characters by playing them in a family production.
This can include picking out costumes from old clothes, and drawing pictures of trees, houses and more for set pieces. Children with vivid imaginations might even enjoy writing their own stories to perform.
Round-Robin Storytelling
Storytelling hooks the imagination, with no crafts or props needed!
For this game, a family sits in a circle and picks one person to start a story with just a few sentences. The person to their left continues it with a few more sentences, and the next person to the left carries on, and so on.
Try telling a few stories in a row, to see how long the family can keep a tall tale going.
Draw a Memory
Drawing can accomplish more than filling time — it can also provide a chance for family members to connect. Invite a few family members to sit together and each draw their funniest or favorite memory. When everyone has finished, each person can describe the memory and what it means to them.