7/16/2020
Education and Outreach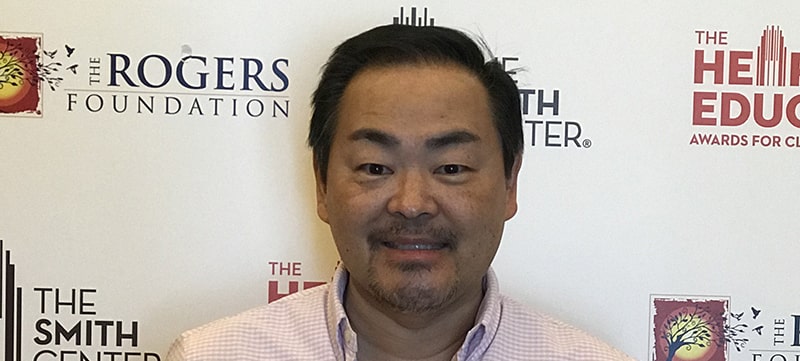 Heart of Education winner Mark Nekoba says his successful career as a band teacher almost didn't happen.
"I always thought I was going to be an engineer and design airplanes," says Nekoba, who has now taught band for more than thirty years.
Nekoba claims his vocational plans got sidetracked when he joined his local high school band. Inspired by a dynamic band director and the camaraderie of his bandmates, Nekoba became hooked.
"Band ended up becoming a part of me," he says.
After attending the University of Arizona on a band scholarship, Nekoba accepted a job with the Clark County School District. Today he teaches band to students in grades 6 to 8 at Jack Lund Schofield Middle School, where his bands consistently receive superior ratings and are said to achieve a sound and product beyond the middle school level.
Preparing Students for the Challenges of Life
As a band instructor, Nekoba gently pushes his students to improve on their musical abilities, teaching students instruments they never thought they'd play, helping them to read music and identify parts of music.
But Nekoba says his emphasis in the classroom is always to teach personal conduct above all else.
"I teach students how to conduct themselves, how to work with others, how to be responsible and accountable to others, as well as to themselves," says Nekoba.
Nekoba knows that most of his students don't plan to become professional musicians, so he makes it a priority to give them the life skills that will help them be successful at whatever they do.
"Fortunately, learning music is a great way to instill good habits like discipline and motivation," he says.
Nobody Gets Turned Away
Despite teaching as many as 300 students, Nekoba says he will never turn away students from the band program.
When colleagues of his who taught the school's autistic program wanted to provide more mainstream class experiences for their students on the autism spectrum, Nekoba welcomed these students into the band program.
"Integrating students from the autism program gives my other students a chance to serve as peer tutors and role models for those students," says Nekoba, adding that the students are paired up for a prescribed length of time and then rotated to other students in order to help them be successful in their mainstream class.
"This has given tremendous confidence to those students as they feel a part of the mainstream school classes and even get to perform with their classmates in front of their friends and families," says Nekoba. "Our focus with them is not so much about music, but rather how to be successful in a class through participation and behavior."
Dedication and Lasting Friendships
Over the years, Nekoba says he's become very close to his students and their families, keeping in touch on Facebook and by phone.
"I'm teaching some kids now whose parents I taught years ago," he says.
Nekoba also believes in helping the next generation of arts educators. To date, he has mentored as many as 24 student teachers, all of whom are teaching band students of their own now.
Nekoba's commitment to his students and his community earned him multiple nominations and ultimately recognition as one of the top 20 teachers for The Smith Center's fifth-annual Heart of Education Awards, which celebrate outstanding Clark County School District (CCSD) educators who go above and beyond for their students.
Despite the cancellation of the annual awards celebration for public health and safety guidelines, each honoree still received a $5,000 cash award, thanks to support from The Rogers Foundation.
A lifelong fan of the performing arts, having grown up in Virginia just 30 minutes from the Kennedy Center, Nekoba says he's really looking forward to the reopening of The Smith Center.
"We all need the arts," he says.