4/29/2020
Inside the Theater / Discovering The Smith Center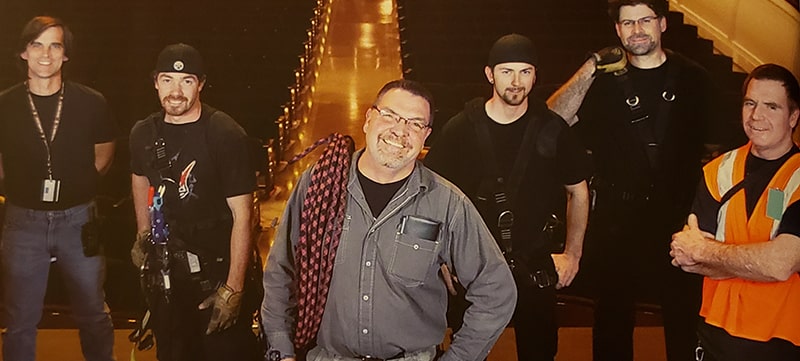 When the curtain rises again at The Smith Center, numerous team members will work behind the scenes to make its music, theater and dance productions possible.
Today, the center continues its special blog series highlighting these valuable team members, whose work spans constructing sets, providing lighting and sound, assisting artists and far more.
When patrons return to The Smith Center, they can remember these hardworking experts who help present the productions that bring community members together.
Today's article in this series highlights Joe Urbauer, head rigger and carpenter at The Smith Center.
*Theater terms defined in italics.
Question: How many years have you been in the performing arts industry?

Joe: My entire life. I was born into it. My father was a stage carpenter at the Sahara starting in 1959, and my mother worked at Lido de Paris under my grandmother Mary Clark, the head wardrobe mistress, who was brought to Las Vegas by Meyer Lansky to re-open the fabulous Flamingo hotel.
Question: Can you describe your job in a few sentences?

Joe: My top priority is to oversee the safety and pulse of the Reynolds Hall stage and backstage area; scheduling and booking local stage crew*; and (determining and handling) carpentry and rigging* concerns. I oversee the load-in* and load-out* of all shows in the Reynolds Hall theater.

I work closely with the other stage disciplines (lighting, audio, video) to ensure that the artists and crew have what they need to ensure a good, professional experience to bring forth the best possible show for the audience.

During down times, my focus is to ensure that all stage equipment and mechanics are maintained, always providing a safe environment for crew and artists while on stage.

*Stage crew: The collective term for theater workers who supervise and operate the technical aspects of a production, spanning lighting, sound, stage and wardrobe
*Rigging: A system of equipment in a theater used to secure lights, scenery, audio equipment and more above the ground
*Load-in: The process of bringing in and setting up the set, costumes and equipment for a production into a theater
*Load-out: The process of dismantling and removing a production's set, costumes and equipment

Question: What's a typical day like for you… Or is there a typical day?

Joe: No two days are ever alike, as every show has its own personality.

A nutshell look into my "typical" day is to start with reviewing feedback from the previous night's show, and advancing* needs for the next show. Then it's time for the local stage crew to arrive. I greet the crew and work with them on the needs of the show that will perform that night.

Once that show rolls in, I meet with the show's head carpenter and stage manager to discuss the load-in, the logistics for the show and the load-out.

The rest of my day is filled with addressing questions and concerns and overseeing the setup of the stage for that night's performance.

*Advancing: Determining a production's needs for technical support, such as sets, lights, sound, musical equipment and dressing rooms

Question: What are the greatest challenges of your job?

Joe: The constant changeover of new shows every night, every day, every week, every month, every year...
Question: What are your favorite aspects of your job?

Joe: Teaching new stagehands the business, and educating staff, donors, and patrons as to the complexities of what it takes to bring a show to the audience.

The biggest high I get is when I give tours and the people say, "wow! I had no idea it took so much to put on a show."
Question: Do you have a stand-out memory from your work with The Smith Center so far that you would like to share?

Joe: Mounting two uniquely different productions from start to finish: "The Tempest" with creators Aaron Posner and Teller in our Symphony Park, and "Idaho! The Comedy Musical" with creators Buddy Sheffield and Keith Thompson in our Reynolds Hall.
Question: Is there anything about The Smith Center that sets it apart in your line of work?

Joe: One of the biggest challenges for shows is the load-in and load-out of the show. The fact that The Smith Center has three loading docks with direct, barn-door access to the stage allows for a swift and safe load in and load out.

We generally beat any other venue's load-in and load-out time, therefore managing costs more efficiently.

The Reynolds Hall stage also has 89 line sets* with 90,000 pounds of counterweight. This allows for a multitude of stage pieces to fly* in and out. The Reynolds Hall theater also has a large wing space*, a fully usable trap* and a 250,000-pound grid* used for rigging audio, lighting and set pieces.

Wardrobe, Hair and most dressing rooms are on the same level as the stage, which isn't found in some theaters. The Smith Center also has a unique orchestra shell system, which is equal only to Bass Performance Hall in Fort Worth.

*Line sets: A counterweight system used to raise and lower theatrical lighting and scenic elements.
*Flying set pieces: To quickly change set pieces in and out
*Wing space: The stage area out of sight from the audience, where performers enter and set pieces are stored for scene changes
*Trap: A concealed opening in the stage floor, through which actors, props, and scenery can be brought on and off stage
*Grid: The overhead structure above a stage often used to mount scenery and lighting

Question: Is there anything else about your role that you would like to share?

Joe: The best part of me at The Smith Center is my wife, Debby. She works alongside me at The Smith Center in the operations/administrative side, and understands the business from all aspects.